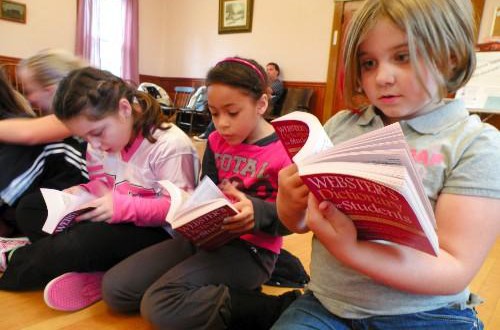 Nearly 60 third graders arrived at the Valley Grange Hall last Friday to pick up their coveted dictionaries–a tradition that started some five years ago and has since become a "rite of passage." This year two students from the very first class to receive the Words for Thirds dictionaries came to help explain to their underclassmen how a dictionary has helped them with their homework.
Seventh graders Maci and Brianna not only offered some formal help, they got "down on the floor" with the third graders to help them look up words often associated with the Grange–words like "steward, patron, and husbandry."

Grange members Roger and Judy Ricker came all the way from Wellington to help with the presentation because "it's so much fun to see the kids get so excited–not just that they are getting a free book, but at what's in it," said Roger. "The label where they write their name says, 'This book and all the words in it belong to…' and they seem to appreciate that." Members Nathalee Marsh and Mary and Jim Annis also came to help with the distribution.
Jim Annis noted that the Grange has one more dictionary day left this year. "On the 18th, we'll be headed to SAD 41 with dictionaries for kids in Lagrange, Milo, and Brownville… this is one of the best programs we have."
Program Director Walter Boomsma agrees. "I never get tired of the kids' reactions to the program and their dictionaries, but I do get tired!" he joked. "A nap usually sounds good after an hour with the kids. I can only imagine what it takes for these teachers to do this for an entire day."
"Special thanks go to third-grade teacher Linda Johnston for being our champion and coordinator," he added. "Since the beginning she's helped us with all the arrangements–including finding our seventh-grade helpers this year. We love these partnerships with our teachers, schools, and kids!"