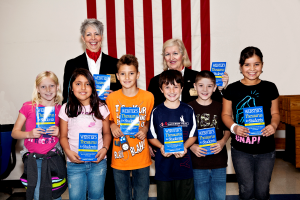 What's another word for –?
The Green Valley Elks Lodge No. 2592 sponsors a Dictionary/Thesaurus Project each year helping local students. Elks traditionally give dictionaries to local second graders to assist them in school and provide educational tools to help them succeed. Last month Arturo Gabaldon, Elks Exalted Ruler, and Tamara Kahrimanis, project chair, delivered 255 dictionaries to Sahuarita Primary School.
In addition, Kahrimanis designed a thesaurus program for fourth graders. She and Susan Anderson, Elks lecturing knight, visited Continental School to deliver 48 thesauruses to the two fourth-grade classes.
Kahrimanis said the books will help improve students' writing skills and help them be better prepared when they become eligible in fifth grade to enter the Elks essay contest, "What is an American?"
U.S. Savings Bonds will be awarded to the essay winners by the Elks Grand Lodge.
Kahrimanis said the combined Dictionary/Thesaurus program builds on the Dictionary Project and establishes a continuous bridge involving additional grade levels providing practical preparation for the Elks national essay contest on Americanism.