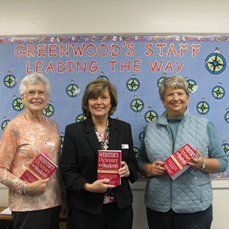 Lakewood Republican Women donate dictionaries to 4th graders at JBLM elementary schools
The Lakewood Republican Women presented personal copies of Webster's Dictionary for Students, Special Encyclopedic Edition, to Joint Base Lewis/McChord 4th graders on October 17th and 18th. The LRW volunteers visited Clarkmoor, Hillside, Carter Lake, Evergreen and Greenwood Elementary Schools.
Students were instructed on the history of the first American dictionary published by Noah Webster in 1828.
There was also a discussion on how to use the dictionary and the importance of using words correctly.
The enthusiasm and appreciation of the students was very apparent. Hopefully the personal dictionary will be a valuable educational tool to each of the students throughout their lives.