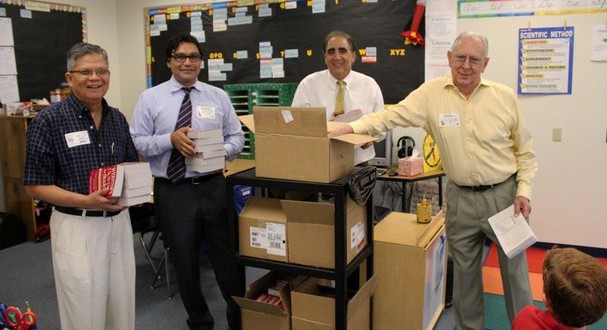 Marco Noontime Rotary gives dictionaries to Tommie Barfield students
Tommie Barfield Elementary third-grade students all had a new dictionaries on their desks on Friday, thanks to the Marco Island Noontime Rotary Club.
Led by chairman George Schroll, Albig Bismonte, George Abounader and Raul Medina, the Rotarians gave out 140 dictionaries to the third-grade classes.
Third grader Fryda, a student in Caitlin Smith's class, presented Schroll with thank-you letters from all the students. Tyler in Jill Dizio's class also gave Schroll handmade thank-you notes.
The club has been partnering with the national Dictionary Project for nine years in giving out the dictionaries. They also gave 140 dictionaries to Corkscrew Elementary School in Naples.