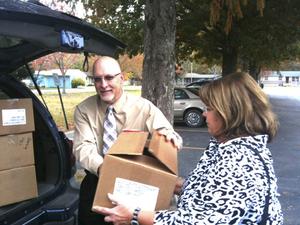 Neosho Rotary Club puts dictionaries in kids' hands
The Neosho Rotary club provided more than 650 area third graders with a free dictionary last month.
The Dictionary Project is an activity the Neosho chapter takes part in each year.
Tyler Smith, Rotary Club member, said the group handed out 679 dictionaries this year, enough for each third-grade student and teacher in Newton County to receive one.
In 2010 nearly 2.5 million third graders worldwide received a free dictionary through the Dictionary Project.
Earl Reynolds, Rotary Club member, said the project is important to the local Neosho chapter. The club members go to each school themselves to personally present the dictionaries to the students.
"The kids are very excited," Reynolds said. "It's their book. It's presented to them with their name in it."
He said the students have to leave their dictionaries at school throughout the year, and then once the school year ends they can take them home and add them to their own collection of books.
Reynolds said the Rotary Club began the project after realizing that most classrooms only have one or two dictionaries.
He said third grade is the perfect age for children to receive the books because that is the age they are most likely to start using it.
"For the last two years they have really pushed all of the local clubs to get involved," Reynolds said. "For Newton County, Neosho is the only Rotary Club there is, so we provide dictionaries to all the third graders in Newton County."
Reynolds said he waits until after the first of the school year to determine how many dictionaries are needed. The dictionaries are usually presented to students throughout October.
"This program is very dear to my heart," Reynolds said. "Education is important. This is a tool they can use for a lifetime."
Reynolds said along with handing out dictionaries, the club members also try to teach the students what Rotary Club is all about.
"We want them to know we are a community-minded club," Reynolds said. "I encourage them to try to be involved in the community themselves."
Reynolds said the club has completed their dictionary handouts for this year.
Copyright 2011 Neosho Daily News. Some rights reserved