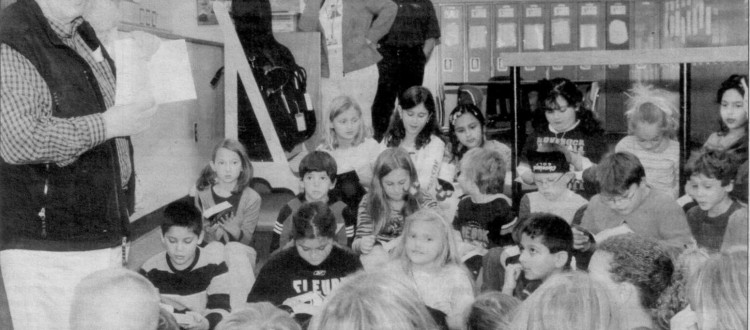 Rotary Club program has meaning for students
James Buchanan is the only American president from Pennsylvania.
The longest word in the English language, a chemical name for a protein, stretches 1,909 letters long.
Those facts are not lost on several hundred third graders in the Fox Chapel Area School District who are being bestowed free dictionaries by the Sharpsburg-Aspinwall Rotary Club.
In its fourth year, the Rotary's dictionary give-away is more than just an effort to teach students to spell, but the book also publishes information on all facets of life, from the name of foreign countries, to U.S. presidents, the U.S. Constitution, weights and measures and more.
"I've always liked education projects because the future is with the children," said John Arch, past president of the Rotary, project chairman for the dictionary giveaway and an attorney in Sharpsburg.
"And whatever we can do to help out young people become citizens later on, it's very worth while," he said.
The Rotary raised the money to buy A Student's Dictionary, published by the Dictionary Project, Inc., by selling funnel cakes and hot dogs during the Sharpsburg Guyasuta Days festival.
Arch and other Rotary members are in the process of distributing about 435 dictionaries to third graders in all of the Fox Chapel Area School District elementary schools, plus private schools including Christ the Divine Teacher Catholic Academy in Aspinwall, St. Mary of the Assumption in Glenshaw, and the Fox Chapel Country Day School.
Why give the dictionaries to third graders and not others?
Because that's the grade where students have just learned to read and are beginning to "read to learn," said Pat Gottschalk, former Rotary president and a tax accountant in O'Hara.
Elaine Mantick, also past president of the Rotary, introduced the dictionary program four years ago because, she said, "It's a good learning tool for children. And it's more than a dictionary."
Other Rotaries across the country were also adopting the program, she said.
"This is really cool," said Grace, 9, of O'Hara, a student at Kerr Elementary school in O'Hara. "It has so much information in it," she said.
Mark, 8, of Fox Chapel, also a student at Kerr, said: "I like the longest word and the map of the world."
A third-grade teacher at Kerr, Jamie McKenzie, said, "It really sparks an interest in learning vocabulary.
"And for most of these kids, it's first reference book that they own."