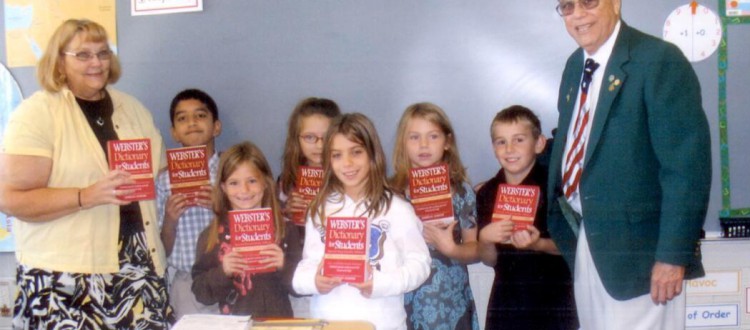 This year Galesburg Elks Lodge gave dictionaries to third-grade students at the Galesburg Christian School, third-grade students at Costa Catholic Academy, and the third-grade students in Galesburg District # 205 for a total of four hundred seventy-five dictionaries. The teachers and aides also received dictionaries, plus each school library received six dictionaries.
Each dictionary was tagged in the inside cover: "This dictionary presented to third-grade students in School District # 205 by the Galesburg Elks Lodge and the Illinois Elks Association. Elks Care-Elks Share."
The students enjoyed getting their dictionaries.
Sincerely,
Alphonse H. Urena
PDDGER
Galesburg Elks Lodge # 894
The Elks received many wonderful thank-you letters from the children and teachers. Here is a sample:
"Dear Elks Club,
Thank you For the dictionary. I like it. I like reading it. It is good for your brain. I used it today to look up a word I didn't know.
Your friend,
Alex"
"Thank you Elks for the dictionaries. That surprised us. We really need them. We can find words in them. You really impressed us.
Sincerely,
Allison"
"Dear Elks,
Thank you for my dictionary. I love my new dictionary I will take very, very good care of it. When you gave me the dictionary it felt like I was being rewarded from the most specialest people on earth. I hope you will give more kids dictionaries so they can be happy too.
Sincerely,
Natalie"
"Dear Elks Lodge members,
Thank you so much for taking the time to provide all of my third grade students at Gale Elementary School with new dictionaries. It is a great relief to have such a great resource provided free of cost for my students. The students take ownership and pride in the idea of owning their own book. Many of the students are overwhelmed with excitement and have been copying definitions from their dictionary during their free time! It's wonderful seeing such a spark for learning in their eyes. Thank you for providing that spark.
Sincerely,
Miss Lacey Matthews"