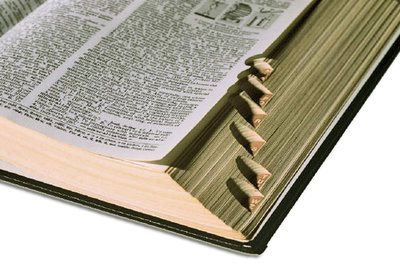 Rotary distributes dictionaries
The Laurinburg Rotary Club has completed its annual dictionary project after distributing more than 475 copies of the student dictionary to all third graders in the Scotland County school system.
Twenty-seven club members visited all eight primary schools, calling on third-grade teachers in their classrooms to give them a few minutes to distribute the free dictionaries. The volumes contained not only English word entries, but also world maps, factual information, a sign language guide and a special favorite of the students, the longest word in the English language spelled out on the back page.
"Out of all that the Rotary Club does, I feel that this service project is the most beneficial for our Scotland County children," said project coordinator Clayton Brooks.
"So many benefit from this simple act of giving. We as Rotarians benefit even more when we see the voices and smiles of gratitude from these third-grade students. Our children are remarkable; nothing is more honorable than a grateful heart."
Club President Larry Schulz said that this is one of the club's signature community service projects, and one that has become extremely popular with students in the school system.
"Sometimes we think that in this age of electronic media and computers, kids will pay no attention to books and especially printed dictionaries, but this emphatically is not the case," he said.
"These boys and girls love their new dictionaries and use them in class and at home."
Parents have reported that older siblings still have their Rotary dictionaries, which are now heavily worn from use. In one letter of thanks sent to the club, a student wrote the following.
"Thank you so much for our new dictionaries," the student wrote.
"I felt so excited. In centers at the round table we looked up the words … beyond, collection, mustache, seriously, fastened, and cartwheels. Rotary Club Members, I love this dictionary. It has everything in it. That was so so sweet to do that. I saw multiplication and sign language charts. Our teacher put our name on them (and) I am going to take care of it and use it until it wears out."
This year's project was dedicated to the late Frank Ward, who headed up the Dictionary Project for several years before his death earlier this year.