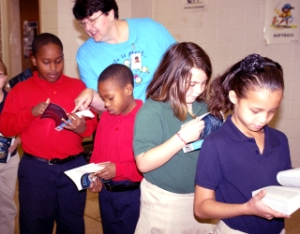 North Rowan students receive free word books from Spencer Civitans
Dictionaries. They're so old-school.
But tell that to the 96 third graders who received a personalized, paperback dictionary Thursday at North Rowan Elementary.
As the students lined up to return to class after receiving their dictionaries, every nose seemed to be thrust into a book.
"This is probably our most important project," Spencer Civitan member Dick Landis said. The club has been providing third graders these kind of dictionaries for five years now.
Third-grade teacher Mary Ann Roberson couldn't hide her enthusiasm, either.
"This is just an awesome program," she said. "The kids really love these books."
As part of The Dictionary Project, which has swept the nation thanks to Johnny Appleseeds like Mike Hendrix and the Spencer Civitans, the North Rowan third graders are among millions of students their age who are discovering that dictionaries can be enduring friends.
"They probably will use this book as long as they're in school," Spencer Civitan Clyde Miller said.
After a 32-year career as a teacher, principal and test-giver with Davie County Schools, Hendrix retired 10 years ago.
The first September he wasn't in school, he was vacationing in Charleston, S.C., and noticed a newspaper article about Mary French, who back in the 1990s had made it a mission to provide third graders with dictionaries in all the local schools.
Her dream then expanded to the whole state of South Carolina, and it eventually took root as a national movement, as people such as Hendrix became disciples of getting the dictionaries into students' hands.
PTAs and civic clubs provided much of the financial support and manpower needed for distribution.
Last year, out of 4 million third graders in the country, Hendrix said, 3 million received dictionaries from the project. Some 16 million dictionaries have been handed out at no cost to students over the years.
Woodleaf Civitans provide dictionaries to Cleveland Elementary and Woodleaf Elementary third graders, while the Spencer Civitans cover Hanford Dole and North Rowan.
They also make sure each book carries its owner's name.
To cover 192 third graders at North Rowan and Hanford Dole, the Spencer Civitans ordered eight boxes, with 24 dictionaries per box. The price is $1.75 per book, or $42 a case.
"A Student's Dictionary" is published by The Dictionary Project Inc. and has 524 pages. Beyond the 33,000 words defined, there are 150 pages of supplemental stuff such as copies of the U.S. Constitution and Declaration of Independence, brief biographies on every president, world maps, periodic and multiplication tables and information behind all 50 states, countries of the world and the planets.
You might ask, why books? Don't most third graders have access to a computer on which they could look up a word? Maybe there's even a dictionary app on their parents' telephone.
The Dictionary Project says it is still likely almost one in 10 American children do not have access to a computer at home. The percentage without home computers is higher for low-income households.
The Project also argues that book dictionaries provide benefits a computer cannot:
• Dictionaries are portable and can be used anywhere.
• A child has a sense of ownership of a book that encourages exploration.
• Only a dictionary can provide the delightful experience of looking up a word and getting sidetracked by all the other fascinating words on the same page.
Another question often asked is, why third grade?
Hendrix says it's the transitional period in school where most students go from learning to read to reading to learn.
Before the dictionaries are handed out, Hendrix excites the children about all the things they'll find in the books and how they can make up games to learn new words.
Some of the words he introduced to the third graders Thursday included "loquacious," "peruse" and "kohl."
"A lot of words in here are wonderful words to know," said Hendrix, who some kids have come to call "The Dictionary Man."
He said he ran into a Davie County High School wrestler last year who recognized him as the man who handed out dictionaries when he was in third grade. As a junior, the wrestler told him, he was still using the same dictionary.
Hendrix also showed parts of the book that include the history of the American flag, Braille and sign language, Roman numerals, civic lessons and state data, such as capitols, nicknames, populations, mottos, state birds and state trees.
The dictionary includes six of the longest words in the English language. The last page has the longest — a word with 1,909 letters.
Good luck trying to say it, Hendrix told the students, but he made them a promise:
"You're going to be so much smarter since you have this dictionary," he said.
Contact Mark Wineka at 704-797-4263, or mwineka@ salisburypost.com.