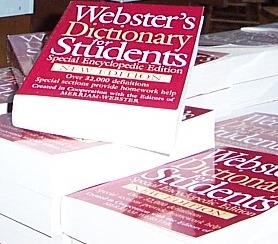 What to do with leftover books
Some of our sponsors have asked what they can do with dictionaries that are left over after they distribute them at their local schools.
While our main goal is to get dictionaries into the hands of elementary school children, these books can be helpful to many other students. Some of our sponsors provide dictionaries to English for Speakers of Other Languages classes in middle schools or high schools. Adult literacy programs are very appreciative of dictionaries for their students. In addition, prisons have educational programs to help the inmates start their lives again, and dictionaries are very helpful there.
Remember also to check with local homeschool groups, and to leave a dictionary or two extra at the schools for any new students who may arrive later in the school year.

In our November 2011 e-newsletter, we asked for suggestions for good ways to use leftover dictionaries. Here are some ideas we received:

Dennis Bokemeier wrote, "The Unicoi County Noon Rotary Club of Erwin, Tennessee, gave the leftover dictionaries to each of the schools' libraries. There are times when students from a class come to the library and there are not enough dictionaries."

The Rotary Club of Anthem, AZ, gives leftover dictionaries to the Goodwill Industries adult basic education program in Phoenix.

From Barbara Fagan of Friday Harbor, WA: "Any remaining books are given to local homeschool students and to projects where our San Juan Island Rotarians may travel. We receive mail from students that have the gift of dictionaries given to them by our club. These are delightful."

Richard Nadeau sent this:
"The Ticonderoga, NY, Elks have combined the delivery of our dictionaries to the 3rd-grade students in our 7 area schools with our Elks Americanism Essay Contest for grades 5 through 8. We have been distributing dictionaries for several years now, and the older students recognize us. This gives us the opportunity to meet new students who have transferred in since the 3rd grade. We give dictionaries to these students."
Carol Hughes of the Rotary Club of Springboro, Ohio, reports: "We leave all leftovers with the schools, as they do get new children starting throughout the year, and they get passed on with the classes, so even when children start in a new school entering fifth or sixth grade, they receive one of our dictionaries.
We also make sure that each library gets some too. We also give one to each teacher, so they have that same reference material to use in the classroom with their students."
From Fred Skill of Redding Grange # 446 in Redding, CA: "Regarding leftover dictionaries. We order enough to cover all the third-grade classes of the schools we serve and we make sure to add at least three dictionaries per class for new students that join the class during the year. With the extra dictionaries we donate them to the literacy program run through our local library. You would be surprised at just how many people are served through that program, while it is some that are learning to read and write at an older period in their life, it's mostly those learning English from another language. So when they sign up they get their own dictionary along with the handout learning material.
So while the 'Words for Thirds' program is very rewarding, the dictionaries for the literacy program give you a second good feeling."
Linda Averill of Everett Elks Lodge # 479 in Everett, WA, wrote: "We had enough 'leftovers' to do one more school & found Quil Ceda Elementary School's 3rd graders in Marysville, WA, had not received any. So we visited them, and each got a dictionary and the teachers each got a few for possible new students."
From Cindy Legg of the Rotary Club of Paintsville, KY: "We've been providing dictionaries for all 4th graders in the county since 2005. We regularly try to expand to include a few disaster-stricken schools from around the country."
Peggy Duda, of the Caldwell County Republican Women in Kyle, TX, gave books left over from their project to her great-granddaughter's class at Timpson Elementary School in Timpson, TX. Her teacher was so excited and thankful and asked, "Can we do this again next year?"
"Any extra books are distributed the YWCA English As a Second Language Program. The rear section of the book has a wealth of information for students learning English and studying for citizenship application. Thanks for a great organizational effort to promote literacy and aid to students."
G. B. Jackson, Pottstown Rotary Literacy Chairman, Pottstown, PA
"In the City of Douglas there is 501 (c)( 3) corporation that runs a facility to assist qualifying women transition from incarceration back into society. This may become a recipient of surplus dictionaries."
Donald York, Ashlar Ancient, Free and Accepted Masonic Lodge # 10, Douglas, WY