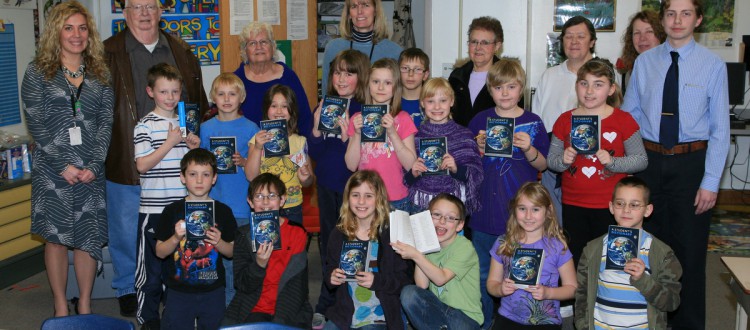 Dictionary Project benefits local students
East Jordan third-grade students received a special gift from Peninsula Grange at a presentation last Thursday, February 16th. As a service-oriented group, Peninsula Grange, in cooperation with the Michigan State Grange and The Dictionary Project, presented dictionaries to all third-grade students at East Jordan Elementary School through its Words for Thirds program.
Peninsula Grange President Walter Murphy explained, "We know how important it is to learn to read in third grade and we believe a personal dictionary will be a great help. Bringing the book home will enable the student to learn more quickly because their education won't be confined to the classroom."
While students are in this very important development state, Grange members hope parents will encourage their children to "look it up" in the dictionary when they need to know how to spell, how to pronounce, or what a word means. With a dictionary at home, parents can spend time with their children making a game of looking up things in the book.
Through the tireless efforts of the Grange's network of more than 300,000 volunteers nationwide, America's oldest rural and agriculture organization has presented third-grade students across the nation with more than 600,000 dictionaries. With the assistance and support of the Michigan State Grange, Peninsula Grange was proud to be able to participate in the project this year.
Established in 1895, Peninsula Grange was formed to unite citizens in improving the economic and social position of American farmers. While the Grange is proud of its agricultural heritage, they are now involved in a variety of community service projects. The historic hall is located at the corner of Looze and Advance Roads, north of East Jordan. For more information, visit www.peninsulagrange.org.