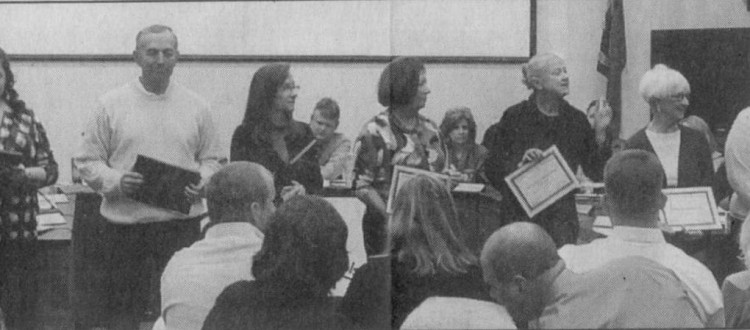 Dictionary Project donors recognized
Twenty years ago, in 1992, Annie Plummer of Savannah, Ga., bought dictionaries and gave them to children who attended a school close to her home.
Each year, she asked for donations so she could give to more students in the Chatham County, Ga., schools. During her lifetime she raised enough money to buy 17,000 dictionaries for children in Savannah.
Plummer's project captured the attention of Bonnie Beeferman of Hilton Head Island, S.C., who began raising money to buy dictionaries for the school children of Beaufort County. Because she could not raise enough money to provide books for all of the requests she was receiving, Beeferman sent a letter to the editor of the Post and Courier newspaper in Charleston, S.C. A Charleston resident read the letter and was inspired to become involved.
Mary French formed a non-profit association in 1995 with a board of directors. At first dictionaries from The Dictionary Project were given to third graders in all of the Charleston County schools. By 1999, every third grader in all of South Carolina was receiving a free dictionary.
The Wall Street Journal published a story about project in March 2002 and it took on a national purpose to expand its mission to provide a free dictionary to all third graders in the 50 United States. The program has been adopted by individuals, businesses, and civic organizations all over the country.
The Dictionary Project has provided free dictionaries to an estimated 16,921,223 students. Of the approximately four million third graders in America, almost three million dictionaries were distributed in 2011.
The Davie County Chapter of The Dictionary Project was started in 2002 when Mike Hendrix, a retired Davie County teacher and administrator, was visiting in Charleston. He read about the project in the local newspaper and contacted Mary French. With permission of the Superintendent of Davie County Schools, Hendrix started visiting local civic clubs and businesses to raise enough funds to start the project for all of the Davie County Schools.
In January, 2003, dictionaries were given to third, fourth, and fifth graders in each school in Davie County. Those fifth graders who received the first dictionaries are now sophomores in college. A thesaurus was given to sixth graders in all middle schools. Those sixth graders who received the first thesauri are now juniors in college.
The Dictionary Project has been distributing books in Davie County for 10 years. An estimated 13,818 books have been given to students. In addition to dictionaries for third graders and thesauri for sixth graders, Spanish-English dictionaries have been provided for English as a second language students in Davie County Schools and the Davie County Campus of DCCC. Dictionaries are given each year to high school age students and adults who are enrolled in the high school diploma program at DCCC, Davie Campus.
"There are eight civic-minded groups who have faithfully contributed money to the Dictionary Proiert for the past ten years," Hendrix said.
The group and the school the group provides funding for books follows:
• Cooleemee Civitan Club for Cooleemee Elementary;
• Davie Civitan Club for Shady Grove Elementary;
• Mocksville Civitan Club for Pinebrook Elementary;
• Mocksville Woman's Club for William R. Davie Elementary;
• Rotary Club of Mocksville for Mocksville Elementary;
• Davie County Retired School Personnel Association for Cornatzer Elementary and South Davie Middle;
• Alpha Delta Kappa Educational Sorority for Ellis Middle; and
• Davie County Enterprise Record newspaper for North Davie Middle School.
In addition to these groups, many individuals annually make contributions to the Davie County Chapter of The Dictionary Project. Collectively the donations of these individuals provide dictionaries for Davie County Campus of DCCC and to fill in where needed for schools.
Hendrix, the head of the local fund-raising efforts for the Davie County Chapter of The Dictionary Project, expresses his sincere thanks to the groups and individuals who have kept this project alive for the last ten years in Davie County.
"The dictionary and thesaurus has become an important educational tool students have used for years after receiving their free book. Everyone who supported this project should be happy with the positive impact this project has had on Davie students," Hendrix said.