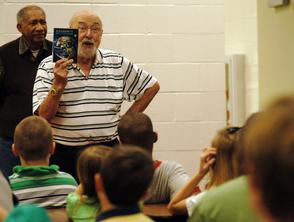 Lions Club distributes dictionaries to Hemingway and Johnsonville elementary schools
Most children's books don't start off with five-syllable words, followed by a word that describes "small to very large-sized edible sea snails."
That's not the case for the students of Johnsonville and Hemingway elementary schools, though, as the Johnsonville-Hemingway Lions Club distributed more than 300 dictionaries for the eighth consecutive year on Wednesday, Feb. 29.
Peter Knoller, the treasurer of the Johnsonville-Hemingway Lions Club, said while he knows the students are proud of their new text, there's no escaping the joy he feels when giving away the new dictionaries.
"I get the biggest kick out of it. I'm sure I have more fun than the kids," Knoller said. "Every time I come here to do this, the kids are really excited and for most of them, this is the first book they've ever had."
With the help of The Dictionary Project, based in Charleston, the Lions Club has been able to maintain the program through tough financial times.
Although the Lion Club has been participating in the project for a number of years, the experience never gets old for Knoller.
When giving away the dictionaries at Hemingway Elementary School, Knoller was approached by an excited student who exclaimed that his mother would be able to use the dictionary for her post-graduate studies.
"That sort of made my day."
Randy Smiley, the Florence School District 5 superintendent, said simply as a member of the community, the thought and effort put into the give-away lets him know the people of the area support their schools and students.
"Having the community come in and bring those dictionaries out shows the students that there are people out there who do care," Smiley said. "Hopefully, that is what we're imparting to these children."
The event, which has become an annual tradition of sorts for the two schools, is something the teachers and administrators look forward to as well.
Smiley said that for the children, it's something of a holiday, with the dictionaries serving as the gift to be unwrapped.
"A lot of our students don't necessarily get new books, so it's a real thrill to have a new book and it's even more of a thrill to have a dictionary, because they can use it for so many things," Smiley said. "They can use it when they're reading something and they don't understand a word and now they have a dictionary to look it up."
While a dictionary isn't used with the same intention as a text book, Knoller said he hopes the general purpose use of the book can help the students throughout their academic career.
"They really think it's quite a big deal," Knoller said. "We're hoping that this is one of the stepping stones in their education that they can use."