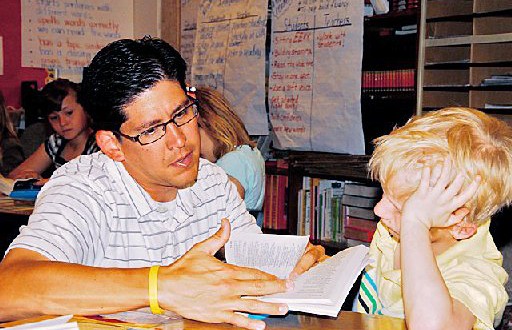 Broomfield Rotary spreading the good word–or lots of them
It might not be many people's favorite book, but it certainly is among the most useful on any bookshelf. It is with this utility in mind that members of the Rotary Club of Broomfield this week distributed dictionaries to every third-grade student in the city for use during this school year and to keep in their personal libraries.
The ultimate goal of the project, according to Rotarian Gerry Case, is to give kids who are mastering the ability to read on their own a resource they can use to improve their literacy skills for the rest of the school year and beyond.
"Third grade is the year kids move from learning to read to reading to learn," said Case, who organized the dictionary project for the Rotary Club. "They'll be able to use this as a building block for the rest of their lives."
Distributed over a two-week period this month, Case and his fellow Rotarians are doling out some 920 — or 700 pounds worth — of paperback dictionaries to 30 classrooms of third graders in Broomfield.
On Thursday, Case and fellow club members Tom Maier and David Shinneman stopped by Birch Elementary School to explain the importance of the paperback bundles of knowledge to the 65 third graders there. The books were delivered by Case and a volunteer from Broomfield High School earlier this week, and two of the three third-grade teachers in the building had already distributed them to their students by Thursday.
"Even now, when I read a book, I find words and I don't know what they mean," Maier told the 22 excited students in Steven Butler's class Thursday as they examined their new dictionaries. "As you look up words and figure out what they mean, you can read even more."
After explaining to Butler's class what Rotary does for the community, Maier showed them the "book plates" at the front of each of their dictionaries. The plates give students a place to put their name on their dictionary, signifying it is officially theirs. Then Maier encouraged them to choose a word to look up. They chose dictionary.
"I'm really happy they have a tool of their own that they can use to look up their spelling words, so they know more about the words they're spelling," said Butler, who has taught third grade at Birch for six years. "They were truly just excited to look up an unknown word."
Butler said he hopes Rotary can make the dictionary project an annual event, something to which the club's board of directors has already committed, Case said. The copies distributed Thursday cost Rotary about $1.75 each, because they were printed and shipped by the Dictionary Project, a nonprofit dedicated to putting the books in kids' hands across the country.
"It's great," said Beth Baldner, who also teaches third grade at Birch. "(The kids) are really, really excited. Some of these kids don't own any books, so getting a dictionary that's theirs is really special to them."
One of Baldner's students, 8-year-old Lily, already has a plan to put her new dictionary to good use.
"I thought it would help me a lot, because there are a lot of words I can't spell," she said Thursday. "I thought if I study the words hard enough it would help me get in next year's spelling bee."
Case said the cooperation he received from teachers and the enthusiasm shown by the kids for the project this year gives him all the more confidence it is a worthwhile project going forward.
"I'm so proud of these kids for their excitement," Case said Thursday. "When the first kid pulled out his dictionary and had five sticky notes in it already, I was like, 'Whoa.'"