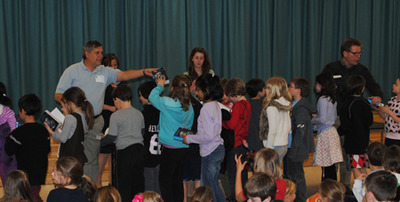 Rotary Club donates a world of information
In the words of Rotarian and South Elementary School alumnus Andy Kerchoff, "It looked like Christmas!" Mr. Kerchoff along with New Canaan Fire Marshal Fred Baker were this year's Rotary Club of New Canaan dictionary presenters at East Elementary School.
Every year, each third grader in New Canaan receives a dictionary as "A gift from the Rotary Club of New Canaan." This year more than 370 students at East, South and West Elementary Schools received A Student's Dictionary & Gazetteer, 19th edition during a presentation program at their school organized by NCPS K-4 Reading Coordinator Glenda Green in collaboration with Rotarian Phil McClain.

Among the many service projects of Rotary International are their programs promoting basic education and literacy. By presenting A Student's Dictionary & Gazetteer the Rotary Club of New Canaan is also acting as a sponsor of The Dictionary Project. According to the Dictionary Project website, "The goal of this program is to assist all students in becoming good writers, active readers, creative thinkers, and resourceful learners by providing them with their own personal dictionary. The dictionaries are a gift to each student to use at school and at home for years to come. Educators see third grade as the dividing line between learning to read and reading to learn, so we encourage our sponsors to give dictionaries each year to children in the third grade."
This year's Rotary Club of New Canaan dictionary presenters included Robert Avery and Eric Fjeldal at East School, Andy Kerchoff and Fred Baker at South School, and David Rucci and Alice Knapp at West School.

After introducing themselves and explaining why their organization was named "Rotary," the dictionary presenters gave a brief overview of some of the many service projects their club supports throughout the world. And then came the real fun…asking questions whose answers could be found in the pages of the dictionary/gazetteers that the children had not yet received. The children excitedly lined up to receive their gifts. Most walked away with heads buried deep in search of answers to such questions as, "What is the longest word in the English language?" The answer, which consists of 1,909 letters, can be found on the very last page.

While describing the annual Rotary Dictionary Presentations Program Dr. Mary Kolek explained, "This program highlights several core values that are part of our school culture – the importance of community service, the joy that can be found in words – many of our speakers talk about their favorite words and books, and the fact that New Canaan adults care about children and work together to promote learning."