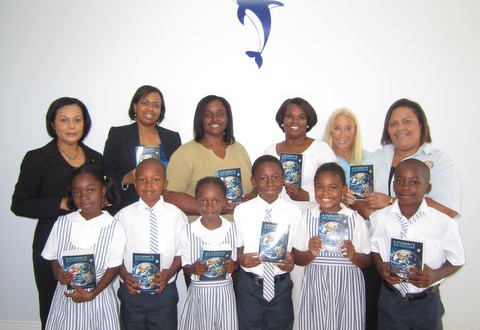 Rotary Club of Lucaya gives through the Dictionary Project
Freeport, Grand Bahama – The idea for The Dictionary Project began in 1992 when Annie Plummer of Savannah, Georgia, gave 50 dictionaries to children who attended a school close to her home. Each year she continued to give this gift, raising money to help give more and more books so that in her lifetime she raised enough money to buy 17,000 dictionaries for children in Savannah. The program has been adopted and refined by individuals, businesses, and civic organizations all over the world by groups such as Rotary Clubs, Kiwanis Clubs, Lions Clubs and many more, have implemented The Dictionary Project where they live. Since its implementation in 1995, over 16 million children have received dictionaries because thousands of people saw the same need in communities all over the United States and as of recent in the Bahamas.
The goal of this program is to assist all students in becoming good writers, active readers, creative thinkers, and resourceful learners by providing them with their own personal dictionary. The dictionaries are a gift to each student particularly third and fourth graders to use at school and at home for years to come.
Our President Cassietta quickly gravitated to this idea when she attended PETS, the President Elect Training Seminar last year February. When she returned home, she was elated and eagerly ready to get her year rolling with exceptional and fulfilling projects. She said to me, this is something that RCL should definitely get involved with; it is imperative that we help to nurture and build the young minds of tomorrow.
Now months later, in a brand new year we are ready to donate 960 dictionaries to public schools on the island of Grand Bahama extending even to the shores of Sweetings Cay.
During the month of February the Rotary Club of Lucaya presented dictionaries to Freeport Primary, Walter Parker, Maurice Moore, Lewis Yard, Hugh Campbell, Martin Town, Bartlett Hill, Holmes Rock, West End All age, High Rock all age, Freetown and Sweetings Cay all age.
Our little darlings are extremely important to us and the Rotary Club of Lucaya under the leadership of our President Cassietta McIntosh was extremely proud to make this possible.