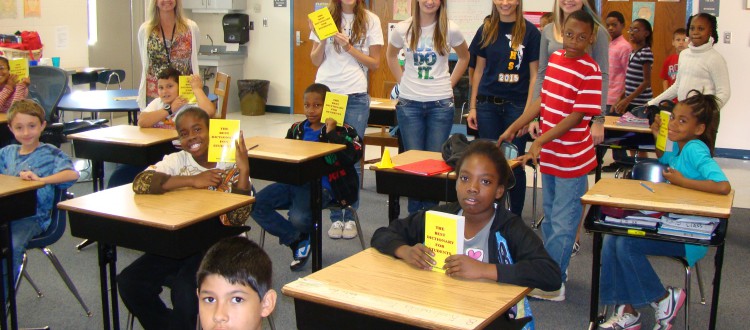 The Gulf Breeze Key Club plan was to help improve 3rd-grade students' writing, reading, and critical thinking skills by giving them their very own dictionary. We decided to select twelve schools who in all would receive 792 dictionaries! These elementary schools came to be Sacred Heart, Central, Gulf Breeze, O J Semmes, Oriole Beach, Oakcrest, Warrington, Holm, Navy Point, Redeemer, St. Johns, and Chumuckla, located in Escambia and Santa Rosa counties. But the club alone could not suffice the $990 fee needed to purchase the dictionaries. So we planned to request assistance from the Florida Opportunity Grant. With the input from them and the Key Club account we hoped to have enough.
The Results!
With the help of the Gulf Breeze High School Key Club and Kiwanis Advisor Jack Gander, 792 free dictionaries were delivered to the twelve elementary schools previously selected in the Pensacola area! We, the K-Family, helped educate 792 students and helped them improve their English skills. Because of the Kiwanis' desire to educate the youth of this generation, this BIG plan made a BIG effect on the elementary schools of Pensacola! The K-Family reaped determination and in the end gave 3rd graders the means to study and be successful on FCAT.
Afterwards
Our Key Club members are overjoyed to have helped provide educational services to the elementary schools in our area and abroad. The children even sent our club thank-you letters thanking us for our services and telling us what they learned from these dictionaries. We hope to do this project again next year!