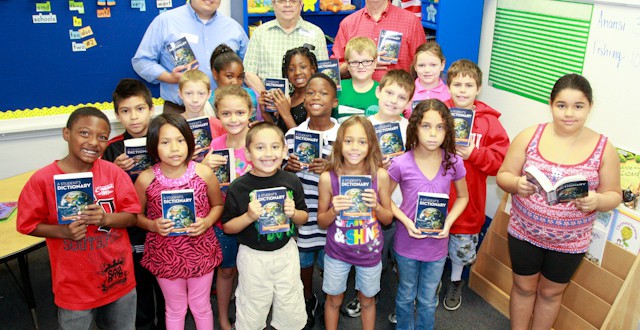 Rotary tackles childhood literacy with Dictionary Project
The Rotary Club of Paducah provided a dictionary to each of the 766 3rd-grade students attending 11 Paducah/McCracken County public and private elementary schools including Community Christian Academy, Clark, Concord, Farley, Heath, Hendron/Lone Oak, Lone Oak, McNabb, Morgan, Reidland, and St. Mary. This represents one way the service organization partners with the school systems to positively influence the literacy level and quality of life of children in our community.
Rotarians Melanie McNeill and Steve Bright co-chair the project and worked with the schools to assure all 3rd-grade students were included and then coordinated delivery to match the needs of each school. A name plate containing Rotary's Four-Way Test was placed inside each dictionary by club members and read: Is it the TRUTH? Is it FAIR to all concerned? Will it build GOODWILL and BETTER FRIENDSHIPS? Will it be BENEFICIAL to all concerned?
More than 20 club members then personally delivered the dictionaries to every 3rd-grade classroom in the county, leading the students in discovering the variety of information the dictionary offers. Students look up words and are surprised to find other interesting facts such as the capital of each state and the longest word. They were also introduced to the Four-Way Test as a positive way to make decisions.
Missy Eckenberg, president of the Rotary Club of Paducah, described the impact of the program, "We work with the administrations of the McCracken County, Paducah City, St. Mary, and Community Christian Academy to provide a vital tool that teachers utilize in the classroom to build reading, writing, and vocabulary skills. Long-term this equates to enhancing literacy levels and increasing test scores. We have given nearly 7,000 dictionaries since we started the program eight years ago."
Rotary purchases the dictionaries from a non-profit group called The Dictionary Project that has provided over 17 million dictionaries to children through service organizations. Their goal is to assist all students to complete the school year as good writers, active readers, and creative thinkers by providing students with their own dictionary. They see reading as the starting point for all the economic and social opportunities the world has to offer.