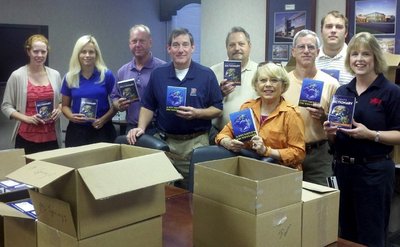 Third graders receive new learning tool
Third graders throughout the county received brand-new dictionaries this week as part of a national effort known as the Dictionary Project. Dictionaries were donated by the Rockingham Rotary Club to nine different schools in Richmond County.
"The Rockingham Rotary Club has done this for seven years through dictionaryproject.org," said John Jackson, Rotary Club member and president of FirstHealth Richmond Memorial Hospital. "It's pretty inexpensive for the dictionaries to be delivered — a lot of civic clubs tend to do it for the community. We learned about this back in 2006 and adopted it as one of our projects."
So, why third graders?
According to the website, "Third grade is the year in which dictionary skills are taught in most schools … third grade represents a critical juncture in a child's education. This is the year a student makes the transition from learning to read to reading to learn. All formal education from this point through college is premised upon the student being able to read and to understand what he or she reads. If we as a community want our children to succeed in education, we must ensure that they have the resources and encouragement to become strong readers by third grade."
The organization is non-profit, and according to the website, does not sell dictionaries. Instead, sponsors are able to make a monetary donation and volunteer to distribute the books to students.
This year, a total of 660 books were delivered to 2nd Baptist School, Temple Baptist School, East Rockingham Elementary, Fairview Heights Elementary, L.J. Bell Elementary, Mineral Springs Elementary, Monroe Avenue Elementary, Washington Street Elementary and West Rockingham Elementary.
Bloddie McClanathan, another member of the Rockingham Rotary Club, said she helped deliver dictionaries on Friday morning.
"We put Rotary stickers with our creed on the back of the books and divide them up per school," McClanathan said. "Then we go into classrooms and physically hand them to the third graders. They got so excited — it's just precious to see their faces."
McClanathan said the dictionaries also included Braille and sign language alphabets and the longest word in the English language.
"They're able to use these all the way through college," she said. "This is the project I really enjoy because it involves what we're all about."
"They're so excited that it's their dictionary to keep and they can put their name in it," Jackson said. "They really appreciate it, so it's rewarding … We're a civic club, we raise money with the Rotary Auction, and part of the proceeds go toward buying these dictionaries."
Extra dictionaries were given to each school, and Jackson said there are still books available. To inquire about getting a copy for your third grader, contact John Jackson at 910-417-3701.
For more information about the Dictionary Project, visit www.dictionaryproject.org.