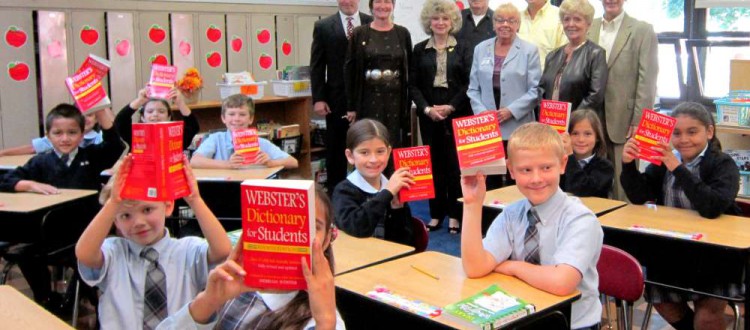 Denville students are still excited about dictionaries
On the morning of Tuesday, Sept. 25, members of the Denville Rotary Club doled out dictionaries at three local schools, Riverview, St. Mary's Prep, and Lakeview. Distributing dictionaries is something that the Rotary Club has done since 2001, giving away more than 2,000 dictionaries since then.
"We feel strongly that students have in their hands a very important implement for learning," said George Hrobuchak, Rotary member and project chairman. "Youngsters' use of the dictionary in and out of school will give them an opportunity to become better readers, better writers, and ultimately better creative thinkers."
The Rotary distributed 240 dictionaries to what Hrobuchak described as, "spontaneous, enthusiastic, and grateful third graders." The Dictionary Project is a national initiative by Rotary Clubs all over the U.S., aiming to better equip students with the resources to grow academically and intellectually.
"You should have seen the kids faces light up at all three schools when we gave them their dictionaries," said Hrobuchak. "They were eager to tell us how this tool of learning will help them in their education. The principals and teachers were sincerely thankful as they know the use of the dictionaries will help to make their students better readers, writers and thinkers."