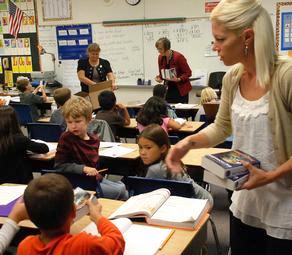 Free dictionaries handed out to students in Paso Robles schools
Members of the Paso Robles Rotary Club are spending the next few weeks handing out personal dictionaries to every 3rd-grade student in the Paso Robles Unified School District.
The Dictionary Project is part of an effort to help improve literacy and the quality of life for students within the community. The goal is to assist children in completing the school year as good writers, active readers and creative thinkers.
Rotary President Dennis Cassidy says he's proud of this program.
"A dictionary is one of the first and most powerful reference tools that a child should own. It allows children to build their vocabulary and reading skills which will help them in the future."
This is the eighth year that the Paso Robles Rotary Club has been involved with this project by donating $500 for the dictionaries.
The Rotary and Elks Clubs serve 300 3rd-grade students at Bauer Speck, Pat Butler, Georgia Brown, Trinity Lutheran, St. Rose & Pleasant Valley Elementary schools.