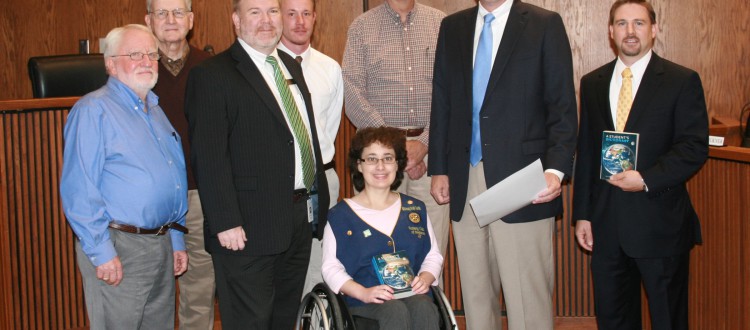 No third grader left behind
The Rotary Club of Dickson knows where to invest its resources. For the third year in a row, the club has partnered with the national non-profit The Dictionary Project to give paperback dictionaries to third graders throughout Dickson County Schools.
Rotary Club representatives and Dickson County Schools Director Dr. Danny Weeks launched the week-long giveaway on Tuesday at The Discovery School. Weeks, school board members and Rotarians attended each elementary school throughout the week and presented the dictionaries that include the Constitution, an atlas, encyclopedia-type media, and symbols for sign language. Oct. 16 was proclaimed Dictionary Day.
"It places one in everybody's hand so that there's not one dictionary in the room or just three dictionaries in the room," said Weeks.
At The Discovery School's handout event, excited third graders noted the longest word on the last page of A Student's Dictionary — too long to print but consisting of 1,909 letters and having to do with science.
Suzanne Downing, a Discovery School teacher whose children received the books, said her kids "were so excited."
"Getting to have their own dictionary and just knowing that the community supports us and what we are doing in the schools, I think that makes a big impact on the kids, to know that someone besides the teachers are caring about them," said Downing.
According to child development experts, third grade is the year children must make the transition from learning to read to reading to learn in order to be successful in learning from that point on.
A report from the Annie E. Casey Foundation states that failure to read proficiently by the end of third grade is linked to higher rates of school dropout.
Also according to the report, of the fourth graders who took the National Assessment of Educational Progress reading test in 2009, 83 percent of children from low-income families — and 85 percent of low-income students who attend high-poverty schools — failed to reach the "proficient" level in reading.
"It's just a handy resource that is right there for them. I think it's a great tool," Weeks added.
With their own dictionaries, for many children their first, a child has a sense of ownership of a book that teachers hope will encourage exploration.
The Club's Dictionary Project began in the fall of 2010 under the leadership of President Philip Tummins.
"Giving dictionaries is a perfect and necessary addition to any reading or literacy program," said club President Whitney Qualls. "This project has brought our club together as never before. The members have what they describe as a warm feeling."
Downing said the reference book will be put to good use.
"The dictionaries are something they will use throughout their school career. They really take pride in having their own."