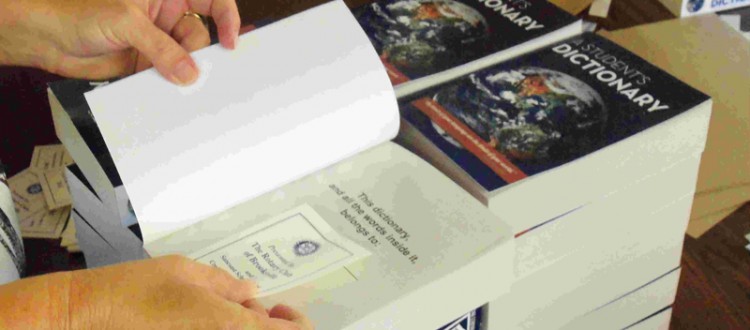 Hernando County Rotary Clubs work together on dictionary project
There are three distinct Rotary Clubs in Hernando County, and today members of all three clubs came together to work on the annual dictionary project. Every year, the Rotary clubs distribute dictionaries to all the third graders in the Hernando County schools. The schools are divided up between the different clubs whose members then deliver the books to the students in the class rooms.
But before this can happen, there is preparatory work to be done. The dictionaries are checked to make sure they are not flawed. Each book also receives a label on one of the first pages where the students will later be asked to write their names.
Members of the Brooksville Rotary Club, the Rotary Club of Spring Hill, and the Spring Hill Central Rotary Club, were working on almost 1,000 books doing just that this evening. We had a lot of fun doing it and didn't stop until we got the job done!
The Rotary Club of Spring Hill, Florida is part of Rotary International, a worldwide community service organization with some 31,000 autonomous clubs in 166 countries.
Each Rotary Club has their own projects that support the needs in our community. The focus of my club, the Rotary Club of Spring Hill, is our youth.
Throughout the year, we conduct several fundraisers to support and fund our community involvement.
We are a breakfast club and meet every Thursday morning at 7:45 am at IHOP on Commercial Way/US 19 in Spring Hill, Florida. Guests are welcome!