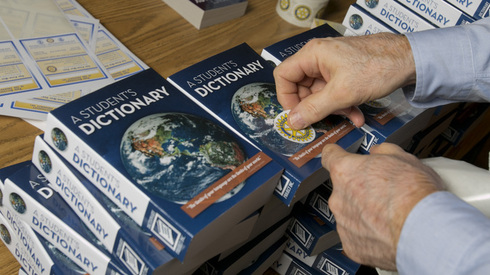 Rotary's dictionary project empowers Mesa students with words
There was a flurry of activity in Mesa Public Schools' book warehouse Wednesday evening as dozens of Rotary Club members gathered to unpack and prepare nearly 5,000 paperback dictionaries to be distributed in district, charter and private schools throughout the city.
It's the seventh year for Mesa's Dictionary Project, an effort by the Mesa, Sunrise, East, West and Falcon Field Rotary Clubs to get dictionaries into the hands of every third grader in the city.
The clubs spent the first part of the year raising about $10,000 to buy the dictionaries. After sorting the books and making sure each one had a blank plate inside for students' names, they will visit classrooms around the city and give the dictionaries away.
"Third grade is when students start moving from learning to read to reading to learn," said Joe O'Reilly, a Mesa Rotary Club member and Mesa schools executive director for student achievement support.
"The book we give away is a dictionary and gazetteer (a geographical reference book). It is much more than a dictionary. It includes the presidents, the Constitution, flags, the continents, the planets, the world's largest word and even sign language. All these topics really capture students' interest."
The longest word, according to the 524-page "A Student's Dictionary" distributed by the clubs, is an unpronounceable medical term with 1,909 characters.
Rotary members say the project is fun and moving.
"For a lot of the kids, this is the first belonging they have ever had," said stockbroker Tom Rhodes, a member of the Mesa Rotary Club.
Boeing retiree John Penneypacker, now district governor of the Falcon Field Rotary Club, will never forget his first visit to a classroom to pass out dictionaries.
"A boy opened his dictionary up and said, 'It's got sign language in it. Now I can talk to my brother,'" he said. "That wiped me out for a little while. The Rotary's motto is 'Service Above Self.' That is why we are here."
O'Reilly encouraged the Mesa clubs to start a local program in 2005, after hearing about a similar effort in Utah. It turned out the Utah program was inspired by an effort that began in South Carolina in the 1990s. Since then, Rotary, Kiwanis, Elks, Lions and similar service organizations across the country have joined the effort.
A South Carolina non-profit called the Dictionary Project supplies light-weight paperback dictionaries, stick-on name plates and book marks to service clubs for about $2 each, he said.
O'Reilly said when the dictionary-distribution program was started in Mesa, many third graders had not had much exposure to dictionaries. But that has changed as Arizona has toughened up its academic standards. A new state initiative, Arizona Ready, will require all third graders to read at grade level by 2013. Those who still read like second graders will be held back from fourth grade.
"When we started seven years ago, students were just starting to use dictionaries when we gave them out," he said. "The expectations for students have increased and now they are used to using dictionaries by the time we hand them out."
Despite O'Reilly's role as Mesa Schools' chief researcher, the district has not done any formal studies on whether owning a dictionary in the third grade improves school academic performance. But teachers who responded to a survey last year gave the program a thumbs up.
Thank-you letters from students also show that the books are appreciated.
"We need them because we have troble (sic) spelling words," wrote one student last school year. "You are the bestest club ever."
Another wrote, "Now I know John Adams was the second president. I got way smarter now."
O'Reilly said the clubs would not even consider substituting dictionary software for the paperback books.
"Not everyone has access to a computer at home or even in class," O'Reilly said. "And students like the idea of it being 'my dictionary.' We hear about students keeping their dictionaries and using them in fourth, fifth even sixth grade — and brothers and sisters handing them down to younger siblings."
Westwood High School senior Teresa Castillo, 17, a member of a junior Rotary organization called the Westwood Interact Club, was at the dictionary-sorting event in part because she has observed the impact receiving a dictionary in third grade has had on her younger sister.
"Kids feel so smart every time they open their dictionary and find a new word," she said.