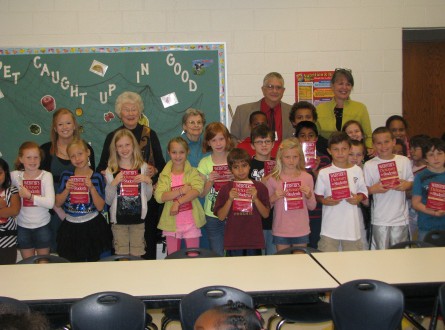 In a digital world, group still sees value in dictionaries
Dictionaries remain important in the age of online learning.
That's the belief that motivates The Dictionary Project to provide the books to third-grade students throughout the United States.
In Alamance County, Alamance Citizens for Education and Twin Lakes Community have the same belief. The educational organization, using a grant from the retirement community, has visited third-grade classrooms throughout the county to give dictionaries to students.
"By the time we finish, we'll have gone to 27 schools," said Allison Gant, Alamance Citizens for Education's executive director. The distribution wraps up this week.
Gant was excited the Twin Lakes grant allowed her organization to distribute dictionaries this year to students in traditional public, charter and private schools. Twin Lakes made it possible for Alamance Citizens for Education to buy the books at a good price from The Dictionary Project. The cost was $5,000, which provided money for each book to be personalized with a sticker with the student's name. Some of Twin Lakes' residents helped with that part of the project, Gant said.
The Dictionary Project has a website at www.dictionaryproject.org. The website says third-grade students are chosen to receive the dictionaries because that grade level is a dividing line, of sorts, between "learning to read and reading to learn." That means students can use additional help understanding what they read as they develop their thinking skills.
One reason dictionaries are important, the website says, is that not every child has constant access to the Internet. And even at school, looking up the word in the dictionary may be quicker than waiting for a computer.
Students receive the Webster's Dictionary for Students/Special Encyclopedic Edition, which "has some history and math information" in addition to words and their meanings, Gant said.
During visits to each school, Alamance Citizens for Education uses activities meant to be fun and educational — including identification of the first and last words in the dictionary.