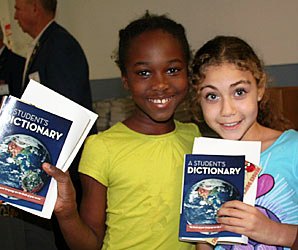 Watervliet Elks come bearing special gifts for third graders: free dictionaries
Every third grader at Watervliet Elementary School recently received a special gift that will help them become better learners: their very own personal dictionary.
Members of the Watervliet Elks Lodge #1500 stopped by the elementary school on Oct. 26 to distribute free dictionaries to third grade students and their teachers.
The dictionary giveaway is part of the local Elks' annual participation in the Dictionary Project, a national program that promotes literacy as students transition from learning to read to becoming strong writers, active readers, creative thinkers, and most of all, develop the skills they need to reach their full potential.
Before distributing the books to students, Elks member Johanna Baniak discussed the additional reference features found in the dictionaries, including a section on the American flag, the Constitution, the 50 states, measurements and multiplication tables.
Mrs. Baniak, her husband, Edward, and Elks leader Edgar Quackenbush handed out the free dictionaries to WES students.
Watervliet Elks Lodge #1500 has been bringing the Dictionary Project to WES for the past several years, and also provides third graders in nearby Menands and Green Island with the free reference books.