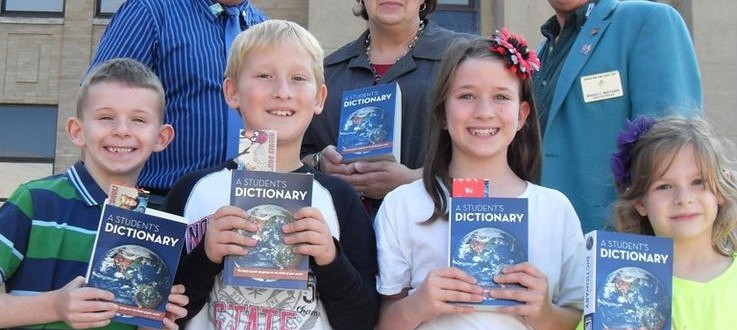 Elks and Rotarians present dictionaries to third graders
Newark Elks Lodge No. 1249 and the Newark Rotary recently partnered to distribute over 100 dictionaries to nine third-grade classes at Kelley Intermediate School.

Kelley Principal, Teresa Prinzi, began the assembly by introducing Newark Elks Exalted Ruler, Brad Whittaker, and Rotary President, Bob Bendix. Bendix then spoke about many of the the goals of the Rotary Club, including: stamping out polio, worldwide food and clean water, and the support of the Literacy Volunteer Program. He went on to tell the students that dictionaries hold much more valuable information then just the spelling and meaning of words, but also tell about the planets, measurements, Braille and sign language, just to name a few.

Whittaker then pointed out to the listeners that "Elks Care and Elks Share," and that one way the organization invests in our children is by supporting numerous youth-oriented programs. Dictionaries not only expand knowledge, but can help each person become a better communicator. He went on to say that the Elks also support Drug Awareness and that each child would receive a bookmark promoting this program.

As the school assembly ended, each student was presented with a new dictionary and a bookmark by members of the Elks and Rotary.

October is Literacy Awareness Month, and the dictionary distribution is part of the Dictionary Project which has distributed over 18 million dictionaries to third graders. Rotary and the Elks Clubs purchased the dictionaries from the Dictionary Project.
Third graders receive the books because they are typically transitioning from learning how to read to reading to learn. The students can study maps of the 50 states and the continents included as supplemental information in the dictionary. They also can check out the listing of the planets and presidential biographies, try out the sign language alphabet and marvel at a page devoted to the world's largest word.
The gifts have no batteries and don't require passwords or Wi-Fi, but the students leaf through the books with interest. Some of them are accustomed to instant access, but the Dictionary Project is all about the importance of holding books in their hands. Also, many children don't have access to computers at home. The dictionary helps fill that void.
For additional information on the programs supported by the Elks, call 331-1249 or visit www.elks.org. Rotary President, Bob Bendix, can be contacted at (315) 374-0454 for inquiries regarding that organization.
For more information on the Dictionary Project go to www.dictionaryproject.org.