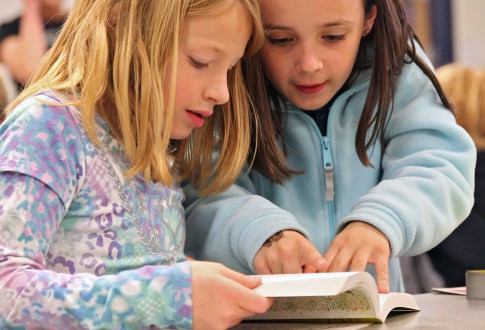 Cedar Rapids Elks encourage learning by giving dictionaries
As area elementary school students begin to brainstorm what they want for the holidays, children can cross one item off their lists: a dictionary.
Thanks to Elks Lodge 251 of Cedar Rapids, an estimated 2,100 local students in 30 area schools now own "The Best Dictionary for Students," a 366-page book full of words and definitions tailored for young learners.
"It's actually words third graders would use most often," said Amy Deiters, a third-grade teacher at Prairie Crest Elementary School in Cedar Rapids. "(Students) are going to find the words they're looking for."
The Elks obtain the texts from the Dictionary Project, a South Carolina-based non-profit with a goal to improve students' writing, reading and thinking skills through reference books. The organization, which was formed in 1995, aims to put a dictionary in the hands of every student in the country.
Dennis Washburn, a member of Elks Lodge 251 since 2003, found out about the Dictionary Project at the group's 2005 spring convention and began handing out the books later that year.
"It took awhile for us to get into the schools," Washburn remembered.
Eventually, though, teachers were calling the Elks asking if they'd come back the following year to deliver more dictionaries. The project has almost tripled in size from that first year, when Elks members visited 12 local schools.
The Elks spend about $3,000 annually to give out the dictionaries. The money is obtained solely through donations, Washburn said.
The project is a good fit for the service organization, Washburn said, because of the amount of youth-related initiatives Elks participate in.
"Our members are really pumped by this," he said. "The Elks like providing services for young people."
Washburn estimated that since 2005, the Elks have given out more than 20,000 dictionaries. They also give out bookmarks and drug awareness coloring books with the dictionaries.
"Every place we go, they're excited," Washburn said of the students. "We get tons of thank yous from the schools and the students."
Eight-year-old Kalyssa, a third grader at Prairie Crest Elementary, received a dictionary earlier this year and said she thinks it will make her a better student.
"I forget a lot of words," she said. "In computer, when we type, I always get the words wrong."
Jean Imoehl, a member of Elks Lodge 251, is known to Washburn as the Dictionary Princess. She spent 28 years teaching first grade at Johnson Elementary School in Cedar Rapids and even though she's seen education shift and students increasingly rely on technology, she said there is still value in having a tangible dictionary.
"Not all of them have computers," she said of students. "It's very important for these children to know how to use a dictionary and know how to spell."