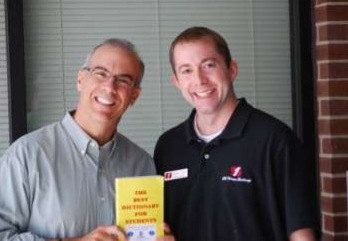 Like many of our Optimist Clubs throughout Optimist International, Olathe Noon Optimists are in the midst of delivering over 2,900 dictionaries to fourth-grade students in Olathe Public Schools, in our Private Schools and to Home Schooled kids. We have been delivering dictionaries since 1989, and have watched our district grow to over 29,000 students totally, and we deliver dictionaries to 32 elementary schools.
We have been very fortunate to have received funding from the Poland Family for the past three years to pay for the dictionaries, and were notified recently that they will renew their commitment for the next three years. Erwin Poland was a charter member of our club, and his sons have chosen to honor him through this project.
We often have guests tell us that they received a dictionary when they were in 4th grade, and one of our member's sons still have their dictionaries! One of our Olathe teachers has told her class that if they bring their dictionary to her when they enter college, she will buy them a new collegiate dictionary, and several students have taken her up on her offer.
This year, Joe Lauria, Fox 4 TV Weatherman, assisted Grant Leeka of Simmons First Bank (and a new member to our club) with the dictionary distribution. Joe lives in Olathe and has helped us with many community projects and is our own special celebrity!
Dr. Marlin Berry, Olathe USD 233 Superintendent, assisted Anne Oswald to distribute dictionaries to her daughter's school. Her daughter is at the bottom right of the class picture.
You can see the excitement of our students from Prince of Peace Catholic School as they receive their new dictionaries, and we are proud to work with the Dictionary Project each year to get dictionaries in the hands of our kids as soon as possible after the start of the school year.
We are nearing twenty-five years of dictionary distribution, and we hope to be here another twenty-five years serving Olathe kids!