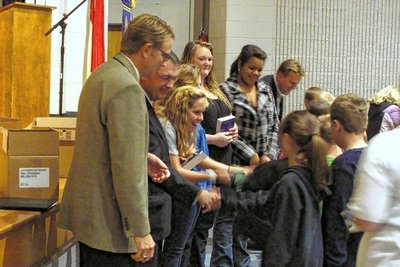 Rotary Club donates dictionaries
In an effort to promote education, the Jeffersons Rotary Club visited all three elementary schools on Tuesday to deliver dictionaries to every third-grade student in Ashe County.
At each school, the children lined up, shook hands with members of the Rotary Club, and gladly accepted their new dictionaries.
Before handing out the dictionaries, Owen Peeler, president of the Jeffersons Rotary Club, explained the purpose of the Rotary Club to his third-grade audience. Peeler said the purpose of the Rotary Club is to "bring together friends who want to serve the community and world."
To drive that point home, Peeler said "the motto of the Rotary Club is service above self."
Also, Peeler told the children that Rotary is an international service organization with several thousand clubs around the world.
According to Peeler, the Rotary Club's symbol resembles a gear in a giant machine, because a machine only works when the gears work together.
"When you put two or more of these gears together, you can make something happen," said Peeler. In fact, Peeler said the dictionary project was a joint effort between the Jeffersons Rotary Club and the Rotary Club of Charlotte.
Peeler also told the children that each Rotary Club member strives to live as ethically as possible. According to Peeler, they do so by asking themselves four questions before committing to a thought or an action.
These four questions are:
• Is it the truth?
• Is it fair to all concerned?
• Will it build good will and better friendships?
• Will it be beneficial to all concerned?
Also in attendance during Tuesday's visits was a group called Interact. This group is made up of students from Ashe County High School, and is a junior service group of the Rotary Club. The group is led by Ashe County High School teacher Anita Ferguson.
Interact helped distribute dictionaries to the third-grade students and gave a short speech about volunteering at each stop.
Members of Interact who helped on Tuesday include: Kaitlyn Gambill, Brittany Barr, Katelyn Brabson, Mariah Martin, Abby Jones, Joshua McNeill, Taylor Hudler, Kelsie Adams, Courtney Barlow, Mikayla Shatley, Emalee Simmons, Skyler Peterson, Kayra Osborne, Laura Calhoun and Cypress Taylor.
Also visiting on behalf of the Jeffersons Rotary Club were Mitch Phillips, Cameron Keziah and Ashe County School Superintendent Travis Reeves.