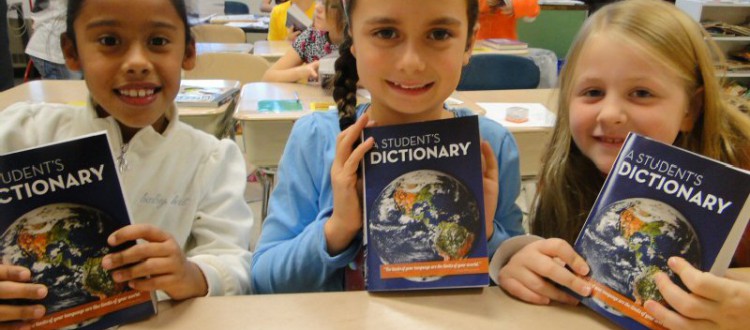 Oswego third graders benefit from Elks Lodge dictionary project
It has become a tradition in Oswego schools.
Once again the Oswego Elks Lodge # 271 representatives toured Oswego elementary schools and continued support of area youth.
For the tenth consecutive year the local fraternal organization has rallied to assist education with the donation of hundreds of student dictionaries to third graders throughout the Oswego City School District.
Oswego Elks representative Jan Pashley and school district officials of Charles E. Riley, Frederick Leighton, Kingsford Park, Fitzhugh Park and Minetto elementary schools recently distributed the dictionaries to excited students.
Nearly 400 Oswego third graders are the beneficiaries of the nationwide "Dictionary Project."
Pashley said, "This is a very worthwhile project that we have been involved in for several years. This is a great learning resource for these students and we are happy to be bringing this program to our schools."
The excitement was evident as the Elks members journeyed from classroom to classroom presenting each student with their new book.
Immediately after receiving their new books the students proudly put their names on their newest possession.
Students busily thumbed through their new books and discovered a variety of subjects that they didn't know were in the dictionary.
This project provides for learning and organizing dictionary skills that are beneficial for all students to improve writing, comprehension and grammar.
The "Dictionary Project" has been supported by the Oswego Elks Lodge.
It originated in 1995 as Mary French of Charleston, South Carolina, created the program to distribute dictionaries to as many third graders as possible.
In the last 17 years French, her board of directors and a network of volunteers, had raised enough money to put a dictionary in the hands of every public school third grader in South Carolina. The Elks have adopted this effort in New York State.
Currently the "Dictionary Project" has been implemented in all 50 states, and the Oswego Elks Lodge once again displayed its dedication and commitment to Oswego's children with the generous donation.