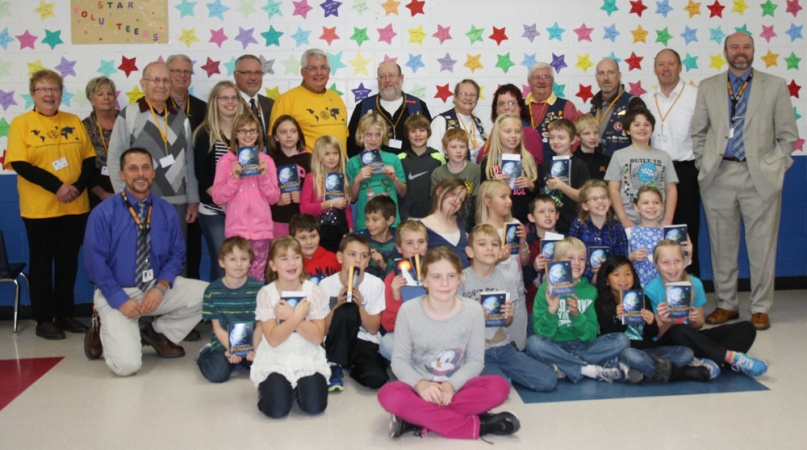 Local Rotary, Lions Clubs Promote Love of Learning
Third-graders at Cambridge Intermediate School and Isanti Intermediate School received a nice surprise Thursday, Nov. 21.

Members of the Rotary Club of Cambridge and Isanti, as well as the Cambridge Lions Club, presented the students with new dictionaries.

Roger Anderson, literacy project coordinator of the Rotary Club of Cambridge and Isanti, explained The Dictionary Project is a nonprofit organization designed to assist all students in becoming good writers, active readers, creative thinkers and resourceful learners by providing them with their own personal dictionaries.

The idea for The Dictionary Project began in 1992 when Annie Plummer of Savannah, Ga., gave 50 dictionaries to children who attended a school close to her home. Each year she continued to give this gift, raising money to help give more and more books so that in her lifetime she raised enough money to buy 17,000 dictionaries for children in Savannah.

Since its official implementation in 1995, more than 18 million children have received dictionaries because thousands of people saw the same need in communities all over the United States.

"This project started with one person, and it's a reminder of how one person can take a project and watch it grow and expand," Anderson said. "The Rotary Club and Lions Clubs are both service organizations, and we like to do various projects around the communities to help make things better."

Anderson hopes the students embrace their new dictionary.

"I personally love dictionaries," Anderson said. "They can tell you how to pronounce a word, the meaning of a word, how to use a word in a sentence and tell you if the word is a noun, verb or adjective. I hope these dictionaries become a tool for you to help you do better in school."

Anderson explained having dictionaries available to students is an important part of education.

"A dictionary is perhaps the first and most powerful reference tool a child should own," Anderson said. "Its usefulness goes beyond the spellings, pronunciations and definitions it lists. It is a companion for solving problems that arise as a child develops his or her reading, writing and creative thinking abilities. Students benefit from an increased self-reliance and resourcefulness inspired by the maxim, 'look it up.'"

Anderson encouraged the students to bring home their dictionaries to show their parents, but then to bring them back to school.

"Teachers benefit by knowing that their students have consistent access to a tool for homework and in-class explorations," Anderson said. "This project gives children an opportunity to expand their vocabulary by owning their very own dictionary."

The students were really intrigued by the world's longest word, which is 1,909 letters, and found at the end of the dictionary.

"We hope you enjoy your new dictionaries and continue to use them while you attend intermediate school," Anderson said.