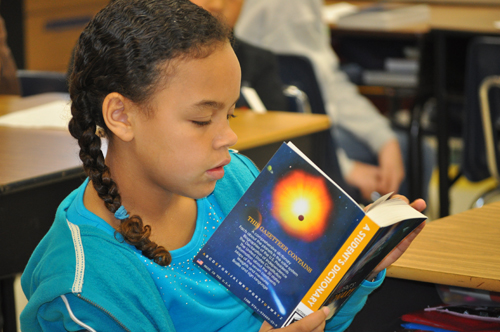 Liberty Rotary Gives 3rd Graders New Dictionaries
Members of the Liberty Rotary Club gave 3rd graders at Liberty Elementary School dictionaries of their own Fri., Dec. 13, 2013 in the new LES gymnasium, and Devers ISD 3rd graders in Steve Horelica's class Mon., Dec. 16. The Rotary Dictionary Project has become an annual tradition, started by Rotarian Diane Huddleston when she was Liberty Rotary President.

Rotarians, including LISD Superintendent Cody Abshier, and 3rd grade LES teachers helped Diane Huddleston hand out the dictionaries to the eager students at LES.

Devers ISD Superintendent Elizabeth Harris was on hand to help hand out dictionaries in Mr. Horelica's class Monday morning.

Huddleston explained to the children that she keeps a dictionary on her desk at all times in case she needs to look up the spelling of a certain word.

The students looked up the words, "serve" and "holiday".

Huddleston told the kids how Rotary was founded in 1905 and now has clubs all around the world. She added that the dictionary would be an important element in their personal life and the careers they choose.