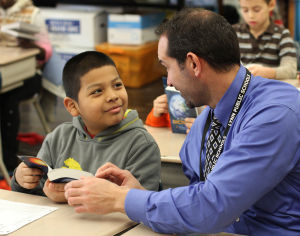 Rotary Club Continues Annual Dictionary Delivery
[A] Cobbet School student…thumbed through one of the 1,000 dictionaries distributed free to local third-graders by the Lynn Rotary Club [this past January] before explaining she already has a dictionary.

"My dad downloaded one for me on my iPad," she said.

Even younger students…may learn to read, write and communicate using technology, but a book stuffed full of words and their meanings is still a valuable tool that Cobbet teacher Joan Gallo said most local students can put to good use.

"This is great because they can take them home for homework. Is it relevant with technology? Yes," she said.

Gallo said many of her students do not have home computers and do not own or use hand-held technology. She said dictionaries are a guidebook into the world of words for students and packed with fun facts, including lists of the world's nations and United States presidents.

["]It's a tool," she said.

The Rotary Club has handed out dictionaries to third-graders in local schools for seven years as part of its ongoing effort to raise money to spend on a variety of projects, including education initiatives.

Boys and Girls Club of Lynn Executive Director Obie Barker, a 12-year Rotarian, said he has met students who still own dictionaries distributed by Rotary Club members three or four years ago.

Equitable Bank spent $2,500 to buy a dictionary for each one of the city's 1,000 third-graders, and Barker handed out the books to Cobbet students along with Equitable Chief Executive Officer Don Smith.

Prompted by Barker, students in Alyson Serwacki's class scrambled to look up "rectangle" in their new dictionaries before turning to the sign language section and a page devoted to a 1,900-letter word defining a chemical formula.

Already a devoted reader, [one] third-grader…is currently making his way through an age-appropriate book, "Amber Brown Is Not A Crayon." He signed his name inside his new dictionary's front cover before exploring its contents.

"If my teacher says a word I can't understand, I can look it up," he said.

Superintendent Catherine Latham said dictionaries are more than resource books for children learning to read and speak English. They help reinforce mastery of the alphabet and give students a basic introduction into doing research through reading.

"I use mine all the time," she told Serwacki's students.

Barker said books, including dictionaries, can counterbalance the time children spend conversing, playing games and listening to music online.

"This is a way to help kids; it takes them away from all the computer gadgets," he said.