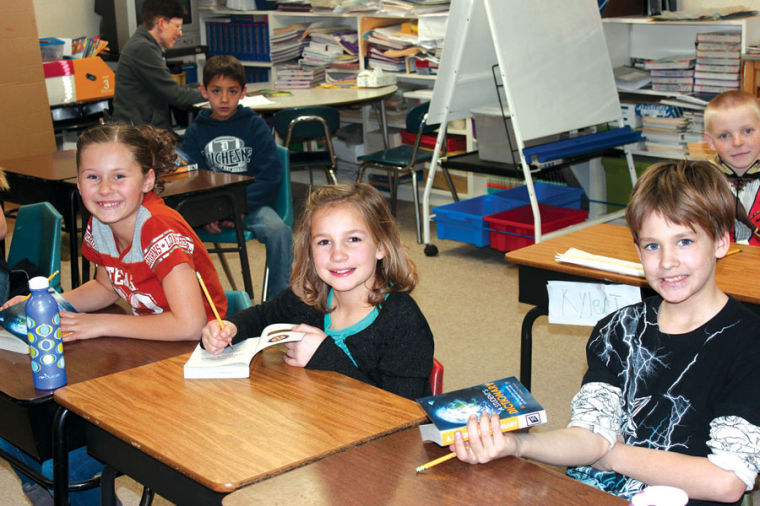 Roosevelt Rotary Distributes Dictionaries in Schools
Smiles erupted on the faces of 8- and 9-year-olds at Duchesne Elementary School and Tabiona School last [January] when they learned they would each receive their own dictionary to use as a personal reference book from the Roosevelt Rotary Club.

Rotarians delivered the dictionaries as [sic] the final two schools in the dictionary distribution in Duchesne County schools. Eagle View Elementary School in Ballard was included in the distribution.

The Roosevelt Rotary Club adopted the nationwide program when it was chartered in 2009. All Rotary [C]lubs in Utah participate in the project. In the Uintah Basin, Vernal also has a Rotary Club.

Since the 1990[']s, Rotary International has embraced The Dictionary Project, a Charleston, S.C.-based non-profit charitable organization that is dedicated to literacy. Each [of the] third-grader[s] in areas served by local Rotary [C]lubs are presented with their own personal dictionary that will serve them at least through their elementary and middle school years. Some young adults have taken dictionaries to college that they received from Rotary while third-graders.

The Dictionary Project began 22 years ago in Savannah, Ga. It has since grown into a national organization that has donated millions of dictionaries in all 50 states, Canada and several other nations.

Many educators and researchers have said that ownership and use of the dictionaries beginning in the third grade improves reading, writing and speech, and bolsters student performance in other subjects as well.

Local Rotarian Kevin Ashby explained what Rotary is and the service it provides in the community and around the world to each of the classes dictionaries were distributed to in Duchesne and Tabiona [this past January]. Other Roosevelt and Vernal Rotarians have done the same in third grade classrooms throughout Duchesne, Uintah and Daggett counties.

In Tabiona, a rural K-12 school, [sic] third and fourth grades are combined in one classroom. One fourth-grader was given a dictionary. She said she had recently moved from another state and dictionaries were not distributed when she was in third grade.