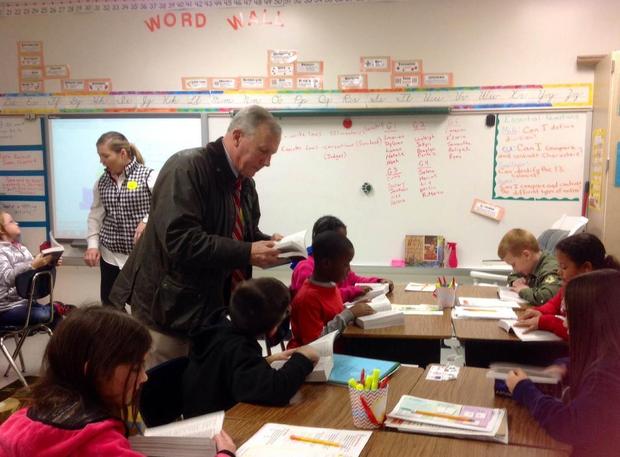 Rotary Clubs Make a Difference in Kershaw County
Camden and West Wateree Rotary Club members reinforced the power of words recently when they donated nearly 100 dictionaries to Kershaw County School third-graders as part of their annual Dictionary Project.
During their visits, club members handed out the dictionaries and talked with students about the importance of expanding their vocabularies.
"Literacy promotion is one of Rotary International's primary areas of focus, and the Dictionary Project is a great way for local clubs like ours to answer the call," said Camden Rotary Club president Kevin Rhodes. "We are always blessed with great feedback from the students, teachers and parents. For many students this dictionary is the only book they may own for themselves."
The Dictionary Project was started by one person in Savannah and has since grown into a worldwide outreach. Rotary Clubs and other civic groups take part in this and similar projects.
"Literacy is critically important, and Rotarians are happy to a part of this very worthy cause," Rhodes said.
Pine Tree Hill Elementary principal Melissa Royalty said the gifts will help students become better readers, writers and speakers.
"I not only appreciate the donation of dictionaries, but I also appreciate the time the Rotary members put in to the distribution. It was great to see our third-graders interacting with influential members of the community," she said.
Read more here: http://www.thestate.com/2014/11/30/3845063_kershaw-county-rotary-groups-give.html?rh=1#storylink=cpy