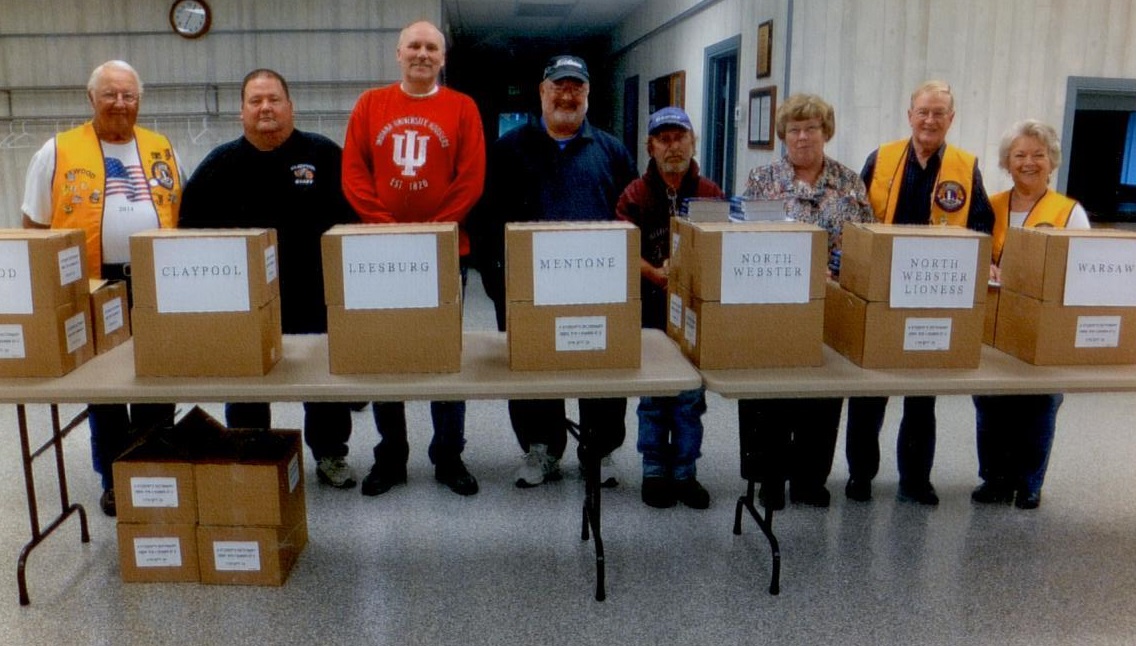 Atwood Lions Club Works with Fellow Lions to Ensure Kosciusko County Students Receive Dictionaries


Letter from Carol Huffer, Atwood Lions Club:

In the last four years, when the project began, we are excited each fall to get the number of books needed, get them ordered and delivered as soon as possible because the "kids" are always so excited to receive them.

We deliver dictionaries to nine elementary schools within our county – Kosciusko County, Indiana. Every 3rd grade student receives his own book with a label inside the cover listing the participating Lions Clubs giving out these dictionaries. And, they are quick to get their name on the line so it's fully personalized.

The idea of combining clubs came to me when I hear about "every 3rd grade student should have his own dictionary" at a district Lions Club meeting. I knew we, the Atwood Lions, could possibly take care of two schools but what about all the other schools within the county boundaries. There are thirteen public elementary schools within in Kosciusko County, four of the schools were already receiving their books from local Lions Clubs, so that left nine. Then it dawned on me to involve the other Lions clubs. And much to my surprise, there are nine other Lions Clubs in the county that were not participating in the project. (Participating clubs include: Atwood, Claypool, Leesburg, Mentone, Mid-Lakes, North Webster, North Webster Lioness, Silver Lake and Warsaw.) It seemed like an easy thing to do – go talk to the other clubs, present the idea, and see what they thought. Every club said "go for it." There are four elementary schools in the town of Warsaw that had not been receiving dictionaries and I knew it would be too much to ask one club to supply each of those schools. But, by each club taking the responsibility of one school out of the nine it would work and that us how we have been doing it.

Every year as soon as school starts, each school is called for the number of third graders, then call me with that number, I order the books, divide the cost by nine and we're ready to go as soon as the books arrive.

This year, we had one club that could not afford to participate in the project so each of the other eight clubs simply picked up the cost difference and took care of the school that could have been left out. It was as simple as could be. We all love this project, the kids are so excited to receive their own dictionary and so appreciative of it. It just makes this a truly wonderful experience.

Originally I was told I'd never get the clubs to work together, which I didn't understand at all. I've never headed up to a project that was so simple. We all recognized the necessity of education to children and what a fantastic way to aid each of them by giving them a dictionary of their very own.


To date, in the four years we've participated in this project, we have distributed 3,380 dictionaries. I keep the other Lions clubs informed on the number of students receiving a dictionary and where the numbers are climbing each year.