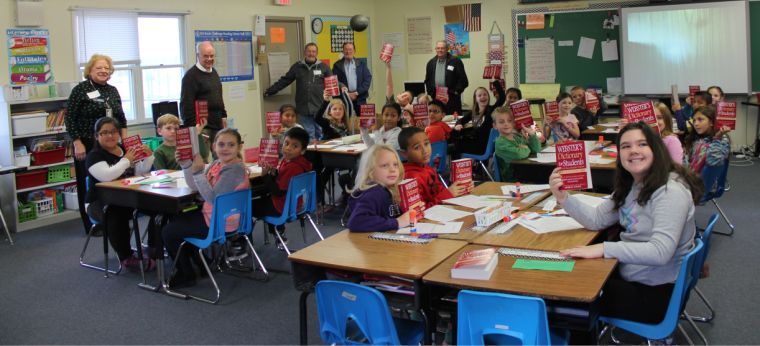 Denton Rotary Gives Dictionaries to Third Graders
Members of Denton Rotary and their partners visited every third-grade class in Caroline County Public Schools and personally handed out free dictionaries to the children in December.
This marks the 10th year for this particular project to support education in the county.
The donation was inspired through The Dictionary Project, a nonprofit organization endorsed by Rotary International. The Dictionary Project's goal is to assist all students to become good writers, active readers and creative thinkers through the gift of their own personal dictionary. The dictionaries are a gift to each student to use at school and at home for years to come.
In spite of the vast resources available via the Internet, there is still a need for something as simple as a print dictionary.
"Not all children have access to computers and the Internet at home," said Debby Bennett, past president of the Denton Rotary and executive director of the Caroline County Public Library. "One of the top goals of the Denton Rotary and our partners is to support education in our community. And there is nothing like owning your own books. For some children, this is their first book."
Adam Jones, Denton Rotary Club president, said, "we could not have accomplished this project if it weren't for our partners."
Partners included the Caroline County Women's Club, Federalsburg Lions Club, Ridgely Lions Club, Preston Lions Club, Denton Lions Club and Greensboro Lions Club.
Article from: The Democrat Star
Posted:
Tuesday, January 13, 2015
Read Here