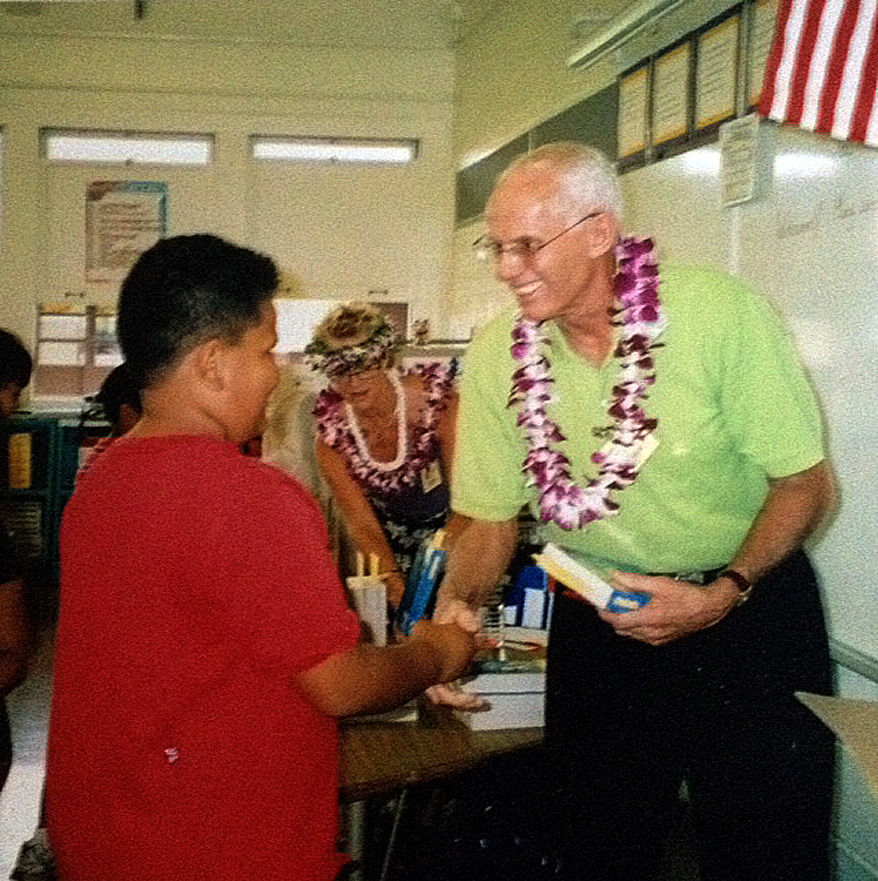 'Dictionaries for Kids' Donor Dahmen Brown Remembered
Article by
In 77 years, Dahmen Morlyn Brown's accomplishments were many.
He had fine hobbies and desires, and he saw the world. He loved Mexican food so much he even started a successful tortilla business in New York City on a whim.
Brown — a learned man born in Olean on Sept. 22, 1937, to Morlyn L. and Grace Dahmen Brown — held a special place in his heart for reading and the worlds of opportunity it can open.
He passed away late Valentine's Day near Fredericksburg, Texas.
In the early 2000s, he and his wife, Mary Gallagher, donated dictionaries to thousands of kids in Cattaraugus and Allegany counties — and Kauai, Hawaii, for good measure — through their "Dictionaries for Kids" project.
"He would tell a story in the classrooms," Gallagher told the Times Herald in a phone interview from her Texas home. "Dahmen was not interested in reading, somehow, until third grade, which could have been tragic, but he really made up for it.
"One of his friends, Pat Gill, took him to the library and said, 'We're staying here until you pick out a book, and you're going to pick out a book that you can read and enjoy. And when you finish that, we'll come back and get another one.' He got hooked, and then he was a lifelong reader."
That book was Jack London's "Call of the Wild."
Fast-forward to February 2002, and the couple was living in Marin County, Calif., in a cantilevered home in a redwood grove atop a hill with a fabulous view of San Francisco Bay. They were also spending three months each year living in Kauai, Hawaii.
Brown's sister, Gloria Brown DeCesare, had just died.
Perusing the Wall Street Journal, Brown and Gallagher encountered a profile piece about Mary French's "The Dictionary Project," figuring a similar effort would be the best way to honor his sister's memory, Gallagher said. After setting up an arrangement with schools in Kauai in 2002, they went on to set up others with the Olean City School District and other schools in Cattaraugus and Allegany counties with help from the Cattaraugus Region Community Foundation.
Given his love for his birthplace, Gallagher said contributing to its literacy efforts seemed an obvious choice.
For several years after 2002, they donated dictionaries to thousands of students in grades three through six.
But the emphasis was on third grade.
"Third-graders are fascinating," said Gallagher. "They don't have that edge, they're wanting to learn, their brains are on fire in the best possible way."
The donations were always made in person, she added.
Brown's mother died in 1938. In a tribute article, Gallagher wrote: "Dahmen had what he described as an idyllic small-town childhood in that beautiful upstate New York village, with his dad and stepmother, Ruth M. Brown; his sister, Gloria, and their stepsister, Saundra; his cousins; and a close-knit community of friends and neighbors."
He spent many childhood summers at Cuba Lake learning to swim and sail — a skill that later led numerous trips up and down the Pacific coast for years with family and friends in a 43-foot Hans Christian blue-water sailboat.
Before his junior year at Olean High School, Brown and his father relocated to La Jolla, Calif. He attended two years at San Diego State College and earned a bachelor's degree from the University of Southern California in 1959. He later earned a master's in business administration from the University of Chicago in 1962.
In the professional world, Brown thrived as a financial guru, holding jobs as a portfolio manager in Southern California and later as a municipal bond broker in San Francisco and New York City, among duties in other cities.
But as he moved about the country, he missed some signature ethnic dishes from southern California. So he, Gallagher and his then-brother-in-law Barney McGee opened Baja Tortilla Factory in Long Island in 1976.
"He seriously came home one day and said, 'You can't get fresh tortillas around here; we need to start a factory,'" Gallagher recalled.
It failed and left the family broke along the way, but with a rebound the company lasted 23 years before its sale to Azteca Foods.
"We lost everything we owned," Gallagher said. "It was (President) Jimmy Carter time, with 18.5 percent interest, so to pay off debt, we were driving trucks, whatever. We picked back up … and rebuilt.
"That's another thing about being an entrepreneur: Entrepreneurs fail more often than not, and if you don't, you probably haven't tried very hard."
She described him as a man with "a marvelous mind and fabulous sense of humor."
"He was very much a gentleman and very much in control, and he knew what needed to be done to do something well and to do it right," she added.
They married on Aug. 8, 1988.
He was predeceased by his parents; two stepmothers, Ruth M. Brown and Velma S. Dodd; and his two sisters.
In addition to his wife, he is survived by a beloved daughter, Darcy DeAnn Brown (Steven) Kendrick and their daughter, Camryn Rose Kendrick of San Clemente, Calif.; two other children; two other grandchildren, Phoebe Tsai Brown of Granite Bay, Calif., and Nathaniel Thompson Page of San Francisco; a stepbrother; two stepsisters; nieces and nephews; cousins; grandnieces; grandnephews; in-laws; and great friends. He also had a beloved dog, Will Brown.
Donations may be made to a charity of the donor's choice or by "paying it forward," Gallagher said.
Other civic clubs and organizations have since adopted "The Dictionary Project" efforts.
Read Here