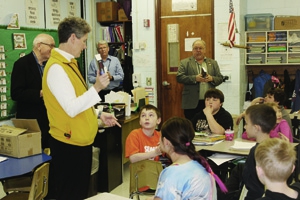 Third grade classes in Taylor County receive a special gift from the Grafton Rotary Club
Article written by
The Mountain Statesman
GRAFTON – Early Tuesday morning, Grafton Rotary Club members Lorraine Isner, President Dan Pauley, Ed Westfall, Kermit "Butch" Bias, and college student volunteer Raymond Isner, began an important mission; a mission to visit every third grade class in Taylor County, giving each student their very own personalized atlas.
The Grafton Rotary Club initially began this project with distributing dictionaries as part of The Dictionary Project. A program designed to assist all students in becoming good writers, active readers, creative thinkers, and resourceful learners by providing them with their own personal dictionary. Educators see third grade as the dividing line between learning to read and reading to learn, so The Dictionary Project encourages sponsors to give dictionaries each year to children in the third grade. Rotary clubs across the United States participate in this program.
For the complete article see the 03-30-2015 issue.
Read online version
Here
,