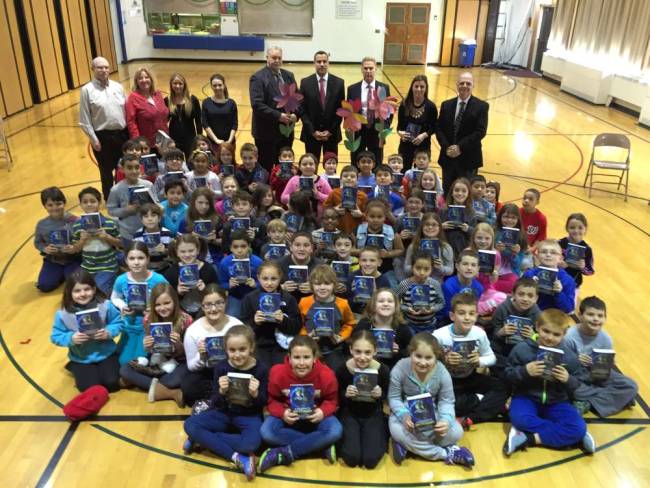 Pompton Lakes Rotary Gives Out Dictionaries to Local Schools
Article written by Dorothy O'Connor, NorthJersey.com
With literacy as a key to better reading, speech and writing, Rotarians once again made their annual visit to Lenox, Lincoln, St. Mary's and Windsor Schools in Pompton Lakes gifting every third grade student with his or her own dictionary.
Rotarian Dictionary Project coordinator Phil Sohn explained, "The object of the Rotary Dictionary Project is give every student a personal dictionary of their very own that will serve them at least through elementary and middle school.
Many teachers see this as a key to better reading, speech, and writing. These skills will improve student performance in other subjects as well."
Specifically receiving the dictionaries personally from Rotary members, Pompton Lakes Rotary Club President Garry Luciani said, "Is beneficial to students as well. The young people have an opportunity to meet successful adults in their community who care enough about them to purchase these dictionaries and come to their school to present them personally."
In addition, he said, students are provided with a brief explanation of Rotary service in the community and around the world giving students a lasting positive impression of Rotary and the ideal of service.
On the tour of schools this year, Sohn, joined by other local Rotarians, explained that Rotary is a worldwide organization of business and professional men and women that provides humanitarian service, encourages high ethical standards in all vocations, and is dedicated to building goodwill and peace throughout the world.
"The Rotary Club of Pompton Lakes is committed to the youth of our community and the greatest percentages of our resources are so directed," said Sohn. Contributions to students include the annual award of scholarships to Pompton Lakes High School graduating seniors; support of the PAL basketball program; presentation of the Rotary Student Achievement Awards; and, as the need arises, borough Rotarians assist families with children who are in crisis and in need of temporary financial assistance.
Business and professional men and women who may be interested in joining the Rotary Club of Pompton Lakes are invited to contact any member, including Sohn at Columbia Bank, Garry Luciani, Ken Snowe and local attorney Peter Lefkowitz.
To learn more about the Rotary Club of Pompton Lakes, visit the website at www.pomptonlakesrotary.org.
Read Here