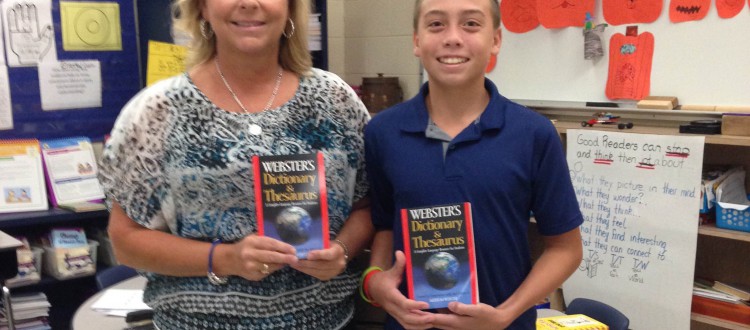 Children Helping Children
The Dictionary Project works with countless sponsors across the county, from businesses to civic organization, from all walks of life, and all ages. It is especially exciting when we see younger individuals start a project to promote and encourage third grade students. One young man from the state of Florida, Matthew, decided he wanted to raise money and donate dictionaries to two local elementary schools in Orlando this year. After completing his project at Theodore Roosevelt and Eola Elementary Schools, he sent us an essay to explain why he became involved in the project and how he was able to raise the money for the books:
My Dictionary Project is to help third graders have access to dictionaries and my goal is to raise funds and donate them. I believe that it is important for all kids to have dictionaries available to them because every kid should have the opportunity to be able to access and use one as a tool for learning like the more fortunate kids in other schools. I am donating to three third grade classes -Theodore Elementary in Cocoa Beach, Passport Charter School and Lake Eola Charter School, both in Orlando. I have raised $240 and spent 20 hours.
I raised the money in a couple of different ways. Some of my hours were spent organizing a charity football pool. I spent my time planning it, making the PowerPoint for it and managing it. I reached out to my family and friends and organized the pool and communicated and collected the funds. The second way I raised money was by washing cars. I spent several hours washing neighbors, friends and families cars. The last way I raised the money for the dictionaries was by selling bracelets. The bracelets have blue ribbons on them to symbolize education awareness. I did this because I believe that everyone should know that not all kids have all the tools they need for a better education. Also I know that all kids deserve to have everything they need for a successful education.
I was very excited and it felt great donating the dictionaries to the kids and teachers. When I donated the dictionaries to the 3rd grade classes it was so great to see their faces light up knowing that they would be receiving their own dictionary. After I donated to the Lake Eola Charter School all of the students sent me clever and thank you cards they made themselves. That gesture made me very happy. Here are some of the comments from the teachers we reached out to:
Wow! Thank you so much. I would greatly appreciate that. My students and I would love to have that donation. Thank you for picking our class out of so many schools and classrooms to choose from. He will be making such a difference for us.
My class would be delighted to have these resources! We write in class every day and have been focusing on the importance of using resources such as these to make your reading and writing better.
We are thrilled! We use only two dictionaries and two thesaurus and it is difficult! We are so grateful!