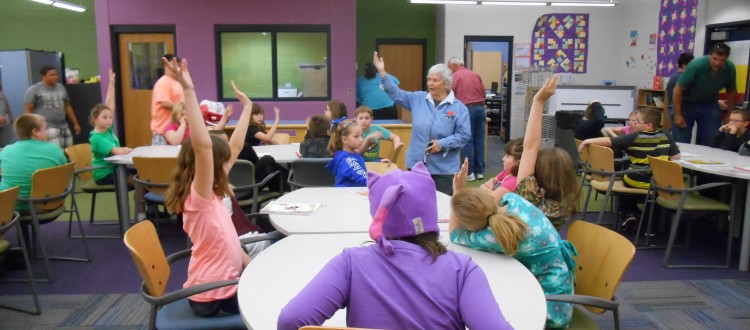 Massachusetts Rotarian Shares More than Just the Gift of Words
The Rotary Club of North Andover has participated in The Dictionary Project since 2008. Spearheading their program is a spunky retired teacher of 35 years, Barbara McGovern. This past fall McGovern wanted to expand her outreach beyond the traditional dictionary project she does in North Andover. After reading an article about the economic hardship in McDowell County, West Virginia, McGovern decided to coordinate a community service project to help a struggling township in Appalachia.
Background:
Nicknamed West Virginia's most southern city, War is nestled in the heart of the Appalachian Mountains. The town is seated in McDowell County, a county once known for the most productive coal mines in the state. However, as the coal industry started to dwindle in the late 1970s, mining communities like the City of War were left with overwhelming hardships. Soon businesses started to close their doors and critical individuals for a thriving community, like doctors and teachers, started to leave War for other opportunities. Today, at least one-third of McDowell County residents are living below the poverty line. Paired with unemployment rates, an overwhelming spike in prescription drug abuse has also plagued the county over the past ten years. Called "hillbilly heroin" – opioids like oxycodone, methadone, and hydrocodone are ravaging West Virginia's small towns, and War is just one of many communities in America struggling with the epidemic.
A Brighter Day:
Although the circumstances seem bleak for the children growing up in War, West Virginia, there is still a bright future. Luckily there are individuals, like the faculty and staff of Southside K-8 School, who are working diligently to ensure these children have an opportunity for a life outside of poverty and drug addiction. And let's not forget individuals like McGovern who spent her entire summer collecting donations from local churches, civic organizations and individuals. McGovern's dedication (and tenacity) inspired not only the community of North Andover to contribute; she also received donations from individuals and families from eight different states across the county! After the two-day trip along mountainous roads, McGovern and her team arrived in War with two trucks filled with supplies. They were warmly greeted by Southside K-8's principal, administrative staff and teachers. Thankfully, a few teachers rounded up the football team – eager to help unload. The boys formed an assembly line from the trucks to the media center – passing along school supplies, books, new toys and games – their eyes wide with excitement. Sadly, most of the students were excited and anxious to claim one of the hundreds of snack-packs that were donated. Principal McGuire noted that many students may not get a meal over the weekend. For these children, the snack packs (filled with granola bars, easy-mac, fruit snacks, and other items that they can fix themselves) are placed in their backpacks to take home every Friday.
"For many of the kids, we're home. I know when they're here, they're loved. I know when they're here, they've got three meals. I know that they're safe, warm and in a clean place." Flo McGuire, Southside K-8 Principal
A Special Dictionary Presentation:
Once the Media Center was packed with supplies, the fourth grade class was brought in for an exciting dictionary presentation. McGovern first explained that a dictionary lists words alphabetically and provides a word's definition, or meaning. She next asked the class if they knew the meaning of the word totem? Most shook their heads and looked around the room for an answer. "A totem is a person or thing that represents an idea," McGovern explained. "Anything can be a totem – a coin, a toy, figurine, a picture, you name it." She held up a toy Mickey Mouse. "This is my totem for happiness because whenever I see Mickey's face I cannot help but smile." The students were encouraged to think of objects or people that make them happy. "Once you have a totem that reminds you to smile or laugh, you can always think of it when you are having a bad day, or feeling sad."
"Living in a town struggling with economic hardship, these children often face more bad than good, but thanks to Barbara, these children can think of their totem and hopefully a smile will come to their face." Emily Quillinan
After the success at Southside K-8 School, McGovern has decided to add an Appalachian school each year. This fall she plans to go to Grant County in Northern West Virginia. If you would like to help contribute, or live in the area and would like to join the festivities on distribution day, please contact Barbara McGovern through the Andover Rotary Club, MA.