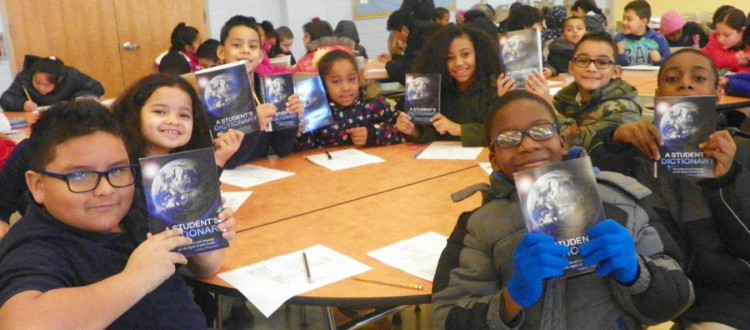 Presentation Ideas from New Jersey: Create a Crossword Puzzle
Over the last eight years, the Rotary Club of Elizabeth, NJ has provided approximately 20,000 dictionaries to third grade students in the cities of Elizabeth and Hillside. This year, a new club member came up with an interactive worksheet to aid in their dictionary presentation. A crossword puzzle was generated which incorporated several environmental STEM vocabulary words. The activity gave the students the opportunity to use their dictionaries while also learning a few eco-friendly words. As the students worked on completing the vocabulary game, Rotarians reiterated the importance of learning dictionary skills. The crossword puzzle was enthusiastically received by both the students and the Board of Education and will be incorporated again in next year's presentation.
"The goal of the Rotary Club Elizabeth Dictionary Project is to expose third graders to the benefits of using a dictionary. We want to develop a lifetime habit of using a dictionary."
Participating Rotarians included Project Leader Leydi Calle, Sebastian Pardo, Esteban Gonzalez, Rabeeta Aroosh, Esther Pierre, Marian Katu Binti,, Diana Vivanco, Rosemary Anibogwu and Evelyn Vivanco.