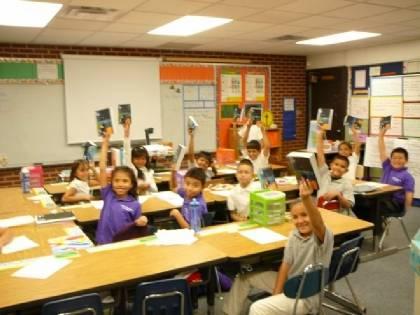 Commerce City Rotary Club helps kids love learning!
Thanks to The Rotary Club of Commerce City, hundreds of Commerce City kids will have an essential learning resource at their fingertips!
Commerce City`s own Rotary Club purchased and distributed free new dictionaries to 550 third grade students who attend the seven Adams County School District 14 elementary schools. An additional supply of dictionaries was delivered to every school to accommodate the student turnover that takes place every year. Dictionaries were delivered to Werth Manor on a Wednesday in early October at which time Rotary volunteers inserted labels into the dictionaries and boxed them according to the numbers of dictionaries needed in each school. Volunteers then hand-delivered the dictionaries to the classrooms and gave them to the children.
Students were very excited to receive their brand new dictionaries, as evidenced by some of their comments in thank-you letters to Commerce City Rotary Members, `Thank you for the amazing dictionaries. It makes my dad proud because he likes me to be smart.` Another youngster writes, `I bet we will use the dictionary a lot. Thank you! I will learn words I didn`t know.` Yet another student adds, `I will treat the dictionary nicely. Now I know how to spell words. You are the best!`
The dictionary project is among many community service projects that Rotary does in conjunction with School District 14 including the Shoes for Kids Program, Dental Hygiene Kit Project, School Supply Drive, and Polio Plus Education Project.
About Commerce City Rotary Club – Commerce City Rotary Club is a local chapter of Rotary International. Rotary International is the world`s first service club organization with more than 1.2 million members in 33,790 clubs worldwide. Commerce City Rotary Club began in 1961 and is celebrating 48 years of service. Rotary Club members are volunteers who work locally, regionally, and internationally to combat hunger, improve health and sanitation, provide education and job training, promote peace, and eradicate polio under the motto `Service Above Self`.