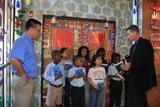 Laurel Rotary Club gives the gift of knowledge
The Laurel Rotary Club made efforts this week to equip young people for a better education.
Members of the Laurel Rotary Club this week delivered and distributed over 1,000 dictionaries to third graders throughout Jones County.
Since 1919, the Laurel Rotary club has practiced the motto, `service above self, he profits most who serves best.`
Members of the club exemplified this motto Friday as they made a significant donation to students throughout Jones County.
John Thaxton with the Rotary Club said this is the second year that the Laurel Rotary Club has taken on the project of supplying all third graders in Jones County with a dictionary.
Club members said all third graders from all public and private schools in Jones County received dictionaries.
`We`ve delivered dictionaries to Mason Elementary, Nora Davis Elementary, Oak Park Elementary and Maddox Elementary in the Laurel School District,` Thaxton explained. `We`ve also delivered them to Glade Elementary, Moselle Elementary, East Jones Elementary, North Jones Elementary, South Jones Elementary and West Jones Elementary, along with Laurel Christian School and St. John`s.
`We wanted to make sure that every third grader received a dictionary,` he added. `It`s just an added tool to help them.`
Third grader Christie said she`s glad she received a dictionary.
`It`s good to have a dictionary,` she said. `It helps you learn big words that you don`t know the meaning to.`
Cyntaya, another third grader, agreed.
`Having a dictionary is good,` Keys said. `It helps you find definitions of words that you may not know.`
Vivian said she likes using a dictionary.
`You can find words that you don`t understand in a dictionary,` Ovalle said. `I also like looking up the definition of words.`
Literacy has been an emphasis of Rotary International since 1986.