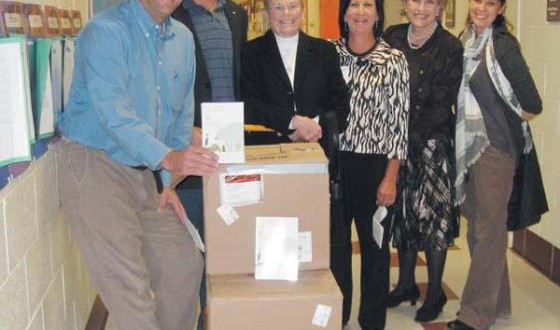 Dictionary Day at Garnet Valley Elementary and Bethel Springs Elementary
Each third grade student of Bethel Springs and Garnet Valley elementary schools is a proud new owner of `A Student`s Dictionary & Animal Gazeteer` thanks to the generosity of the Concordville/ Chadds Ford Rotary.
Rotary President Jim Murphy, accompanied by fellow Rotarians Terry Dougherty, Lisa Dort, Kay Weldon and Sue Weldon, visited the schools to present the dictionaries to the children. Murphy explained the Rotary was a national service organization which participated in both local and national projects.
The Dictionary Project is a national non-profit organization with a goal of improving the writing and thinking abilities of our nations` young learners. By sending dictionaries to every elementary school in the United States, they intend to have a positive impact on education in this country and empower children to become skillful communicators and resourceful learners.
This year`s dictionary edition was selected with the input of Barbara Giorgio, supervisor of Language Arts and Staff Development, and the reading specialists in the two buildings. Ms. Giorgio explained `A Student`s Dictionary & Animal Gazeteer` was a perfect choice for the Garnet Valley curriculum because students in third, fourth, and fifth grades participate in many projects and activities involving the study of animals. This selection also supports the efforts of the district to teach literacy skills through content areas other than Language Arts lessons.
Dougherty challenged the third graders to name some things a dictionary could do and was impressed as the children deftly answered: define a word, show the proper pronunciation and confirm the part of speech. He continued his message of personal encouragement to the children as he impressed upon the students that our world faces many challenges, and we needed to prepare our young people to be strong, productive citizens who can succeed and solve problems in a rapidly changing world. A pocket dictionary may be a small thing, but it is a powerful tool to help with learning; and when it is a gift from a child`s community, the child learns from it not just the value of school work, but also the example of community service.