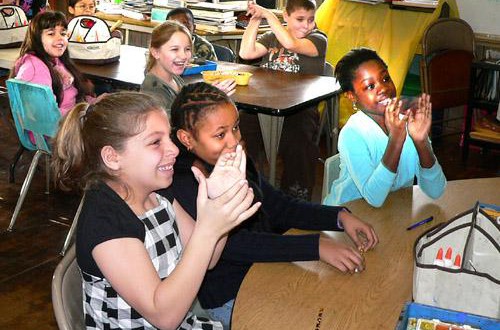 Rotary Club of Lynn donates 1,100 dictionaries to Lynn schools
Superintendent of Schools Dr. Catherine Latham and Connery School Principal, Patricia Riley, were on hand to witness the distribution of dictionaries to the 3rd grade students at Connery Elementary School by Elaine Kurkul, Rotary Club President. The Rotary Club of Lynn presented over 1,100 dictionaries to every third-grade student in 16 Lynn schools that day – the fourth year the club has done so.
Part of an international program by many of the 32,230 Rotary Clubs worldwide, teaching young children to read has become a major part of Rotary International`s literacy goals in several countries including the United States.
The dictionaries are given to each 3rd-grader personally and the youngsters were asked to sign their names on the first page and to take the book home after using it in school, as the book is their own personal property.
Close to 20 Lynn Rotarians participated the dictionary project both in preparation for the distribution and the actual presentation of the dictionaries at the Aborn, Brickett, Callahan, Cobbett, Connery, Drewicz, Ford, Harrington, Hood, Ingalls, Lincoln-Thomson, Lynn Woods, Sewell-Anderson, Sisson, Shoemaker and Tracy elementary schools.
Lynn Rotarians who volunteered for this community service project included Gene Hastings, Richard Cuffe, Obie Barker, Virginia Doocy, Robert Dugas, James Harris, Marolie Licardie, Robert Kennedy, Mark Kennard, Joyce Elliott, Diana Moreno, Rev. Bill Simpson, Cindy Steger-Wilson, Elaine Kurkul, Steve Upton, Arthur Horgan and honorary member Representative Stephen Walsh.