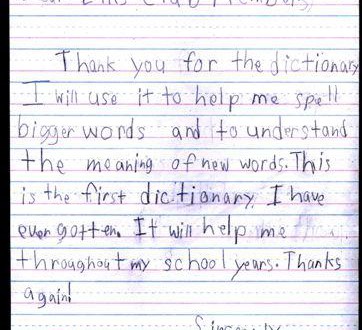 Ticonderoga Elks Lodge repeats popular dictionary project
Since 2003, the Ticonderoga Elks Lodge #1494 has been distributing dictionaries to seven area schools: St. Mary's School, Mountainside Christian Academy, Crown Point, Moriah, Putnam, Schroon Lake, and Ticonderoga Central Schools.
The sole mission of the Dictionary Project is to distribute dictionaries to as many third graders as possible. In addition to the third-grade dictionaries, the Ticonderoga Elks Lodge also provides Spanish/English and French/English dictionaries to language students in the seven area schools.
The Lodge completed this Fall's project on September 30 and has already received many wonderful thank-you letters from the students.