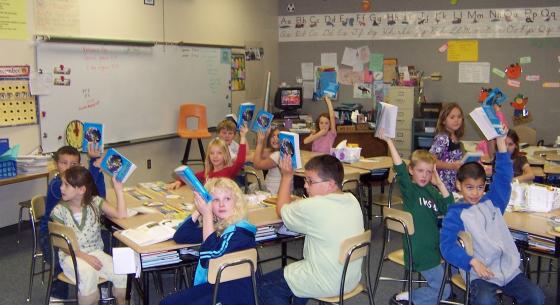 Ashland Rotary delivers dictionaries
`Just in time!` was the remark of one of the Ashland-Greenwood Elementary School 3rd grade teachers in Ashland, Nebraska, when the Ashland Rotary Club arrived with personal dictionaries for all of the 3rd grade students. Rotary members Jack Cooper, Rod Riesen, Don Tweet, Father Gary Coulter and Craig Pease came to classrooms on Tuesday, November 11th to present the books. Each 3rd grade student received his or her own personal Student`s Dictionary that is printed just for 3rd grade students by the Dictionary Project. The book not only contains all of the words important for a 3rd grader to know but also includes many additional references in the study of grammar, science, history and geography as well.
The Dictionary Project is a national movement to provide elementary students with dictionaries. The local Ashland Rotary Club provides the dictionaries as a part of its organization`s literacy and education goals. This is the second year that the Rotary Club has presented dictionaries, and the organization hopes to continue with the project for many years to come. The 3rd grade is the chosen class, as they study the dictionary in their curriculum.
The dictionaries arrived just in time for some classes to read them for STOP, DROP and READ time at school. The students after receiving the books quickly paged through the books to look at such items as the descriptions and maps of the states, countries and continents of the world. They also were able to read about planets, Presidents and the United States flag.
The Ashland Area Rotary Club is a local chapter of the International Rotary Clubs. The organization`s purpose is to provide service locally and internationally. Locally the service club provides students with scholarships, annually sponsors an honored academics dinner, judges local science fairs, conducts mock interviews with senior high students, sponsors Husker football stars basketball game, delivers Christmas baskets to needy families, and many other activities in addition to the Dictionary Project. The Rotary Club meets on Tuesday mornings at 6:45 AM on the 2nd floor of CheriOs in downtown Ashland. Guests are always welcome.